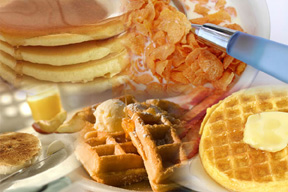 Saturday morning breakfast was a tradition in our home. It was the one day of the week we would definitely plan on having a hearty breakfast. Our breakfast or brunch would always consist of various kinds of pancakes, waffles, French toast, or muffins. I soon learned that if you bake it they will come. It's hard to sleep in when you have those great smells coming from the kitchen. These delightful breads aren't just for breakfast anymore. We have found over the years that sometimes we really enjoy having a scrumptious breakfast for dinner. And, don't forget the ham and eggs!
Cranberry and White Chocolate Scones
1 ¾ cups flour
½ cup dried cranberries
2 Teaspoons baking powder
½ cup white chocolate chips
½ Teaspoon salt
¾ cup buttermilk
2 Tablespoons sugar
8 Tablespoons butter (cut into ½ inch cubes)
Preheat oven to 400 degrees. In a large mixing bowl, combine the flour, baking powder, salt, and sugar with an electric mixer. Add the butter and mix just until coated with flour (butter chunks should remain). Add the cranberries and white chocolate. Stir gently. Mix in ? cup of buttermilk. Stop mixing when the dough starts to pull away from the sides. Shape dough into a ball. Pat dough into a circle. Cut into 8 pieces. Place the cut pieces on a baking sheet lined with parchment paper. Brush the tops with remaining buttermilk and sprinkle with sugar. Bake at 400 degrees for 15 – 20 minutes or until lightly golden brown.
Fluffy Whole Wheat Waffles
1 cup whole wheat flour
3 Tablespoons baking powder
½ Teaspoon salt
2 Teaspoons sugar
2 eggs (separated)
1 ¼ cups milk
¼ cup canola oil
½ Teaspoon cinnamon
Hint: Homemade pancakes and waffles are fluffy and light if you beat the egg whites separately and fold in after the batter is incorporated.
Preheat your waffle iron and spray lightly with cooking oil. Separate the egg whites from the egg yolk. In a small bowl beat the eggs whites with an electric mixer until they form soft peaks and set aside. In a large mixing bowl add the flour, salt, baking powder, sugar and cinnamon. Add oil and egg yolks and beat with an electric mixer on low speed (batter will be very thin). Gently fold in beaten egg whites. Bake in waffle iron according to instructions.
Dutch Babies
My family loves Dutch Babies!!! They are very puffy when you take them out of the oven. They fall as they cool. If the kids are given a choice, they always ask for Dutch Babies. These are great served with syrups and jams.
3 eggs
1 Tablespoons sugar
¾ cup flour
½ Teaspoons salt
¾ cup milk
2 Tablespoons butter
Preheat oven to 425 degrees. In a large pie pan, place the butter and melt in oven. The butter will be bubble and be careful not to burn it. In a medium size bowl, mix the eggs, flour, milk, sugar and salt together with a mixer or a blender. Add the batter to the hot butter and bake for 30 minutes at 425 degrees.
Battered French toast
I like this French toast with its crunchy top because it stays crispy with any toppings.
8 slices of day old bread
1 cup flour
1 Teaspoon salt
½ Teaspoon baking powder
2 cups milk or buttermilk
6 eggs
1 Teaspoon vanilla
2 Tablespoons oil
Preheat the skillet to 375 – 400 degrees. In a mixing bowl, add all the dry ingredients together. In a separate mixing bowl, blend the milk, eggs and vanilla. Add wet ingredients to the dry ingredients. Stir until well mixed. Don't worry about a few lumps. Heat in the skillet. Dip bread in mixture and place in the skillet. Brown on both sides.
---
If you have any additional tips that you'd like to add, please post them on the
Cook'n Club Forum
(if you're a
Cook'n Club Member
)...or e-mail them to
Dan@dvo.com
.
---
Join the Cook'n Club!An unbeatable value with exclusive benefits for members only.
Enjoy articles like this and many other benefits when you join the Cook'n Club.