Agave Bread
By Camille Rhoades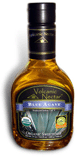 Why should everyone else get all the fun? I know that bread can be a bit of a sore spot for the many, many diabetics that love to cook and enjoy good food. There are so many "no no's" and so few recipes to help diabetics (and the rest of us just trying to cut back on sugar) enjoy the delicious breads without sacrificing or risking health.

Agave Nectar is a natural sweetener that is very sweet but has a low glycemic index so a little bit goes a long way when it comes to sweetening. These recipes use agave to take decadent breads from forbidden fruit to deliciously doable.

Agave Banana Bread

1/2 cup agave
1/3 cup margarine
1 teaspoon vanilla extract
2 eggs
3/4 cup whole wheat flour
1/2 cup unbleached flour
1/2 cup rolled oats
1 teaspoon baking powder
1 teaspoon nutmeg
1/2 teaspoon salt
1 cup ripe bananas mashed
1/2 cup walnuts chopped

Cream agave and margarine in large mixing bowl until fluffy. Beat in vanilla. Add eggs one at a time, beating well after each addition. Combine dry ingredients. Add alternately with bananas, blending well. Stir in walnuts. Spoon into greased 9x5x3-inch loaf pan. Bake at 325°F 50 to 55 minutes or until wooden pick inserted near center of loaf comes out clean. Cool completely before slicing.
Serves: 12



Pumpkin Agave Bread

1 cup agave
1/2 cup butter
1 can 16 oz. pumpkins
4 eggs
4 cups flour
4 teaspoons baking powder
2 teaspoons ground cinnamon
2 teaspoons ground ginger
1 teaspoon baking soda
1 teaspoon salt
1 teaspoon ground nutmeg

In large bowl, cream agave with butter until light and fluffy. Stir in pumpkin. Beat in eggs, one at a time, until thoroughly incorporated. Sift together remaining ingredients. Stir into pumpkin mixture. Divide batter equally between two well-greased 9 x5 x 3-inch loaf pans. Bake at 350°F for 1 hour or until a wooden pick inserted in center comes out clean. Let loaves cool in pans for 10 minutes; invert pans to remove loaves and allow to finish cooling on racks.
Serves: 12

Agave Zucchini Bread

1 egg
3/4 cup agave
3 tablespoons vegetable oil
1 teaspoon vanilla extract
2-1/2 cups flour
1-1/2 teaspoons baking powder
1 teaspoon grated orange peel
1/2 teaspoon baking soda
1/2 teaspoon ground ginger
1/4 teaspoon salt
1-1/2 cups zucchini grated
1/2 cup sunflower seeds

Beat egg slightly in large bowl. Add agave, oil and vanilla; mix well. Combine flour, baking powder, orange peel, baking soda, ginger and salt in medium bowl. Add flour mixture, zucchini and sunflower seeds to agave mixture; mix until well blended. Spoon batter into well greased 9x5x3-inch loaf pan. Bake at 325°F about 1 hour or until wooden pick inserted near center comes out clean. Cool 10 minutes in pan; remove from pan and cool completely.
Serves: 12

Agave Whole Wheat Bread

2 packages active dry yeast
2-1/4 cups warm water
3 cups whole wheat flour
1 cup finely shredded carrots
1 cup mashed bananas
1/2 cup butter
1/3 cup agave
1 tablespoon salt
1/2 teaspoon ground cinnamon
5 cups flour
2 tablespoons butter

Dissolve yeast in 1/2 cup warm water. Stir in whole wheat flour, 1-3/4 cups warm water, carrots, bananas, butter, agave, salt and cinnamon; beat until smooth using an electric mixer. Mix in enough flour to make a soft dough. Knead about 10 minutes, or until smooth and elastic, on a lightly floured board. Place in a large greased bowl and turn to grease all sides. Cover bowl and set in warm place to rise about 1 hour or until doubled in size. Punch down dough, divide in half, flatten each half with a rolling pin, or your hand, to 18x9-inches; overlap the two sides and fold into thirds. Roll each half up tightly and place in a greased 9x5x3-inch pan. Brush tops with melted butter. Let rise about one hour or until doubled in size. Bake at 375°F for 40 to 45 minutes or until crust is brown. Remove from pans and cool on wire racks.
Serves: 12

Agave Gingerbread

1 cup butter
1-1/2 cups agave divided
1 egg
2-1/2 cups flour
2 teaspoons ground ginger
1-1/2 teaspoons baking soda
1 teaspoon ground cinnamon
3/4 cup boiling water

Preheat oven to 350°F. Grease two 8-1/2 x 4-1/2-inch loaf pans. In a bowl, cream together butter and 1/2 cup agave. Mix in egg. In a medium bowl, blend together flour, ginger, baking soda and cinnamon. In a small bowl, blend remaining 1 cup agave with boiling water.
With mixer running, add 1/3 dry mixture to creamed butter mixture. When dry mixture is incorporated completely, add 1/3 liquid mixture. Continue adding ingredients in batches, alternating the dry and liquid. Turn batter into prepared pans, dividing equally.
Bake until a toothpick inserted into center comes out clean, 40 to 50 minutes.
Serves: 24

For those interested in more recipes using Agave Syrup, Cook'n has a cookbook solely dedicated to Agave Recipes.



---
Join the Cook'n Club!An unbeatable value with exclusive benefits for members only.
Enjoy articles like this and many other benefits when you join the Cook'n Club.