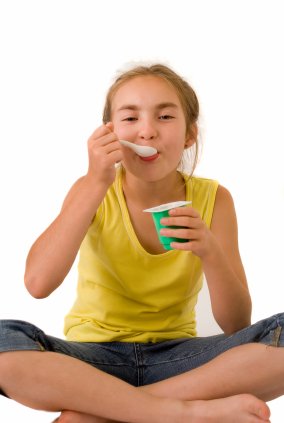 Here we are at back-to-school time again. Hopefully your kids havenít already eaten you out of house and home over the summer. Now its time to figure out the best way to take care of your family when they come rushing in from a hard day of learningÖ or playing (lets be realistic). You want to strike the balance between a good healthy snack and leaving room for dinner.
Timing is everything.
Make sure you take into consideration when your child has lunch at school and how much they are eating. Lets say your child has lunch at around 11 AM. They get home just starving at 3 and gobble up a large snack. They will certainly not be ready for the wonderful dinner you are preparing to serve at 5:30. Just think this through and plan portions and time out so hard work and good food arenít being wasted.
For days that you are planning a late dinner, make sure the snack is substantial enough to get them to dinnertime without sneaking another snack. On days where you may be having an early dinnertime, something as simple as a few crackers and cheese may tide them over.
Create a list of healthy options that are available.
If your children are like most, the minute you tell them they have to do something they canít stand the idea. Make this a team effort. Sit down with your children and discuss snacks they would like to have available. Make sure to have a variety of fresh fruit and vegetables on your list. Be careful not to ban things like cake and potato chips from the after-school options. If you get rid of them entirely, itís likely your kids will be unhappy and not touch the good stuff you have for them. Though these low-nutrient snacks shouldn't be on the everyday after-school menu.
If at all possible, keep them involved in the process by taking them to the grocery store with you. This is a great opportunity to look over nutrition labels with them and explain that you need to look for things high in protein and calcium. When they can learn about proper nutrition and portion sizes they can make better decisions for themselves for life. Make sure you point out foods high in salt and fat and remind them that these are to be eaten sparingly.
Make healthy snacks the easy choice.
Unless you have golden children, they will not take the time to cut their own veggie sticks Ė especially if you are dealing with teenagers. Itís just too much work. Frankly, a lot of adults fall into the same trap. We as humans tend to like things that are easy and fast, especially if we are hungry. So this is where you come in. To make this work you need to prepare the snacks before they come in from school. Place them out in a visible way and they will be snatched up.
Younger kids will need you to prepare the entire snack for them. So easy things like ants on a log (celery topped with peanut butter and raisin "ants") seem like a good choice. Older kids get to a point where they may enjoy fixing some of their own snacks. This is a little easier on you. You should have all the ingredients prepared and ready for them to just assemble their creations with some simple instructions. A key to remember with snaking is that it should take more time to eat it than it does to prepare it!
If you are not home when your child gets home from school, make sure the snacks are easily available to them. Especially when unattended, kids will take the path of least resistance when it comes to snacking.
Wash it All Down
Water and milk are the best options for a healthy way to wash down yummy snacks. Milk can be very filling, so choose water if you donít want the children too full if dinner is close. Sugary drinks and sodas at snack time will just undo all the healthy snacking we have just worked so hard to pull off.
A Few Quick Ideas
Ants on a log
(mentioned above)
Prep Time: 5 minutes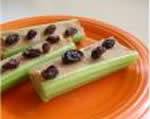 celery sticks
peanut butter
raisins
Wash the celery and cut it into pieces about 5 inches long.
Spread peanut butter over the entire length of the celery.
Press raisins into peanut butter.
Fruit Kabobs
Prep Time: 15 minutes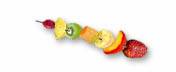 2 Apples, cored and cut into bite-sized chunks
1 Banana, cut into bite-sized slices
Grapes
Tangerines (Separated into segments, or use canned)
Fresh Strawberries
Wooden skewers
1 cup Vanilla Yogurt
1/4 cup Shredded Coconut
Gently put the fruit onto the skewers, alternating fruit pieces. Mix yogurt and coconut in a bowl; dip fruit into the yogurt.
Makes about 6 servings.
Frozen Apple Sauce and Fruit Cup
Prep Time: 1 hours, 15 minutes
1 cup Chunky or Regular Apple Sauce
10 ounce package frozen strawberries, thawed
11 ounce can mandarin orange segments, drained
1 cup grapes, if desired
2 tablespoons orange juice concentrate
In medium bowl, combine all ingredients. Spoon fruit mixture into individual dishes or paper cups. Freeze until firm. Remove from freezer about 30 minutes before serving.
Makes about 7 (1/2 cup) servings.
---
If you have any additional tips that you'd like to add, please post them on the
Cook'n Club Forum
(if you're a
Cook'n Club Member
)...or e-mail them to
Dan@dvo.com
.
---
Join the Cook'n Club!An unbeatable value with exclusive benefits for members only.
Enjoy articles like this and many other benefits when you join the Cook'n Club.
---