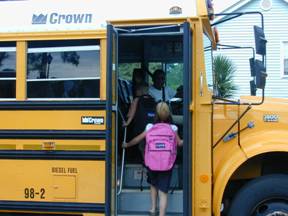 Children have growing bodies that seem to need a snack or two throughout the day. Contrary to popular belief, a snack doesn't need to ruin your next meal. A snack can actually be a healthy compliment to your meal when eaten in moderation. This is where serving size information comes in handy.
A good rule of thumb is to remember that approximately ˝ cup of fruits or vegetables constitute a serving. Since we should have five servings of fruits or vegetables a day, snacks are an excellent way to help incorporate them in to our diets. Fruits and vegetables are lower in calories than most snacks and have antioxidants that help fight off those bugs that children pass back and forth to each other at school and play.
If your children are older, you will have less control over what they eat. However, I haven't met a teenager yet that doesn't like a fruit smoothie. What a great way to get some calcium.
Lemon Berry Smoothie
1 – 8 ounce lemon yogurt
8 strawberries or 3/4 c raspberries
3/4 c orange juice
1/2 banana
6 ice cubes
Mix in blender and serve.
Packaged snacks are sure handy, but rarely do they have the nutritional value that homemade snacks do. I think the big dilemma is to come up with snacks that are fast, healthy and won't ruin your desire for dinner.
One good idea is to aim for two food groups with each snack. For instance, fruit with yogurt and a sprinkle of granola served in a small Sunday cup. Remember that packaging is a real draw with kids. Use your imagination! Try putting stickers on a baggy filled with trail mix or use colorful containers. Mix string cheese and whole wheat crackers; a piece of ham rolled with a piece of cheese or apples; or, try celery with peanut butter. The protein in the cheese and peanut butter help to keep them satisfied between meals plus it builds muscles.
Cereals like raisin bran and shredded wheat with milk can also be satisfying. Remember to keep it to a small bowl – 1/2 - 3/4 cups are the usual serving sizes.
I, for one, love cookies and milk! And, I feel deprived if I don't indulge once or twice a week. Some cookie recipes have ingredients that help to pump up their nutritional value. Here's a yummy one.
After School Snack Attack Cookies
1c butter
1-1/2 c brown sugar
2 eggs
2 tsp vanilla
1 c wheat flour
3/4 c all purpose flour
1 1/2 tsp baking powder
1 tsp baking soda
1 1/2 c rolled oats
1/8 c flax seeds
1 cup chocolate chips
1 c toasted almonds
1 1/2 c dried fruit (blueberries, raisins, craisins, cherries, etc.)
Cream the butter and sugar together. Mix well and then add eggs and vanilla. Add both types of flour, baking soda, and baking powder to the mixture. Finally, add oats, chocolate chips, flax seeds, almonds and dried fruit.
Spray cookie sheet with non-stick spray. Place dough on cookie sheet using a tablespoon.
Bake at 350° for 10 – 12 minutes.
We may not always make the best decision when it comes to our snack attacks but occasionally that's alright. After all, the long term health of our children is our goal.
---
Join the Cook'n Club!An unbeatable value with exclusive benefits for members only.
Enjoy articles like this and many other benefits when you join the Cook'n Club.