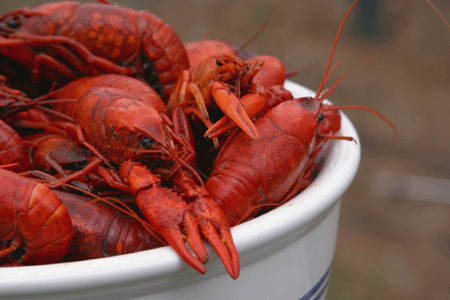 Crayfish, crawdads, mudbugs, whatever you want to call them, the state crustacean of Louisiana for the past 20 years has been… you guessed it, the crawfish! Spring is the season for crawfish and here are a few tips you will need for your Cajun style crawfish boil.
Keep 'em Fresh!
There are quite a few places to order live crawfish online and they all recommend cooking and eating them on the day of delivery so do your best to plan the cookout on delivery day or you will end up with mushy crawfish meat.
Keep 'em Cool!
Live crawfish need to be kept at 46-48 degrees and in high humidity. Keep them in burlap sack on ice in an ice chest and lightly mist them with water every few hours. Do not leave crawfish in standing water; always drain water as ice melts.
Boil or Steam 'em!
There are endless crawfish recipes but traditionally they are boiled or steamed in order to peal them. They will cook completely in about 5 or 6 minutes. Crawfish meat toughens as it is overcooked so keep a close eye on them.
Here is a traditional crawfish boil recipe:
Louisiana Boiled Crawfish
2 large onions, quartered
10 cloves garlic, halved
2 oranges, quartered
2 lemons, quartered
5 stalks celery, cut into chunks
¼ cup black pepper
¼ cup seasoned salt
6 jalapeno peppers, halved and seeded
10 pounds live crawfish, rinsed
Place all ingredients (except live crawfish) into a 5-gallon pot that is filled ¾ full with water. Bring water and ingredients to a hard boil over intense heat. Boil for 20 minutes.
Add crawfish, cover and boil until shells turn red ( 5-15 minutes). Drain, pinch tails and suck the tops to eat.
Freeze 'em!
Peel all the leftovers from you crawfish boil and freeze the tails and fat in freezer bags filled with water to use in one of these next recipes, (for those of us not brave enough to cook live crawfish, pre-cleaned and frozen crawfish can also be used in these recipes):
Cold Crawfish Dip
1/2 cup butter
2 pounds crawfish tails, with fat
4 (8 ounce) packages cream cheese, room temperature
1 bunch green onions, chopped
1 cup mayonnaise
1/2 teaspoon Tabasco sauce or to taste
1 teaspoon Worcestershire sauce, or to taste
Melt butter in a large skillet over medium heat. Add half of the green onions, and cook until wilted. Add the crawfish tails, reduce heat to medium-low, and simmer for about 10 minutes. Set aside to cool.
In a large bowl, stir together the cream cheese and mayonnaise until well blended. I like to use an electric mixer. Season with hot pepper sauce and Worcestershire sauce until the mixture is pink in color. When the crawfish have cooled slightly, stir them and the butter into the dip along with the rest of the green onion. Mix well, cover and refrigerate overnight to properly blend the flavors. This dip tastes best when prepared the day before.
Crawfish Chowder
1/4 cup butter
1/2 bunch green onions, chopped
1/2 cup butter
2 pounds frozen crawfish, cleaned
2 (10.75 ounce) cans condensed cream of potato soup
1 (10.75 ounce) can condensed cream of mushroom soup
1 (15.25 ounce) can whole kernel corn, drained
4 ounces cream cheese, softened
2 cups half-and-half cream
1/2 teaspoon cayenne pepper
Melt 1/4 cup of butter in a large skillet over medium heat. Sauté green onions in butter until tender. Remove from pan, and set aside. In the same skillet, melt 1/2 cup of butter, and sauté the crawfish for 5 minutes; set aside.
In a large pot over medium heat, combine potato soup, mushroom soup, corn, and cream cheese. Mix well, and bring to a slow boil. Stir in half-and-half, sautéed green onions, and crawfish. Season with cayenne pepper. Bring to a low boil, and simmer 5 minutes to blend
---
If you have any additional tips that you'd like to add, please post them on the
Cook'n Club Forum
(if you're a
Cook'n Club Member
)...or e-mail them to
Dan@dvo.com
.
---
Join the Cook'n Club!An unbeatable value with exclusive benefits for members only.
Enjoy articles like this and many other benefits when you join the Cook'n Club.