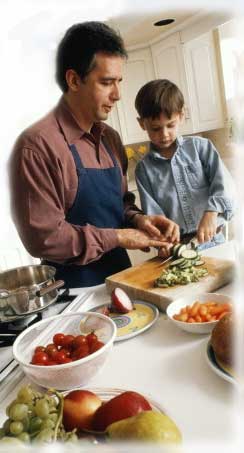 There is so much on your plate on Thanksgiving – in more way than one! Pulling of a successful Thanksgiving dinner is an enormous job for even the most seasoned of cooks. So many dishes, so many people, so much to do! Proper planning and preparation can make an enormous difference in the outcome of your meal – and you holiday.
Shopping and preparation schedules are critical, but another wonderful step in simplifying your holiday is preparing things ahead.
Whether you choose new recipes that can be prepared ahead or alter your current recipes to allow for parts to be done in that days before you can spare yourself a lot of stress by scheduling your meal preparation well.
These recipes are great for preparing ahead and keeping all the wonderful flavors you love for Thanksgiving.
Sweet Potato Puree with Maple
Yield: Makes 8 servings
5 pounds sweet potatoes, unpeeled
1/4 to 1/2 cup maple syrup
5 tablespoons unsalted butter, at room temperature
1 cup sour cream
1/2 teaspoon kosher salt
1/4 teaspoon ground nutmeg
Heat oven to 375° F.
Pierce the sweet potatoes several times with a fork and place on a foil-lined baking sheet. Bake until softened, 1 to 1 1/2 hours, depending on size; let cool. Slice each sweet potato in half lengthwise. Scoop the flesh into a saucepan and discard the skins. Add the maple syrup (to taste), butter, and sour cream. Using a wooden spoon or potato masher, mix until smooth. Season with the salt and nutmeg. Place over medium heat, stirring occasionally, until warmed through, about 5 minutes.
Make Ahead:
Assemble the puree the day before (but don't heat it). Allow an extra 5 minutes for warming.
Mashed Potatoes with Sage and White Cheddar Cheese
4 pounds russet potatoes, peeled, cut into 1 1/2-inch cubes
1/4 cup (1/2 stick) butter
2 tablespoons plus 1 teaspoon minced fresh sage
3/4 cup whipping cream
3/4 cup whole milk
2 1/4 cups (packed; about 9 ounces) coarsely grated sharp white cheddar cheese
Butter 8- to 10-cup baking dish. Cook potatoes in large pot of boiling salted water until tender, about 12 minutes.
Meanwhile, melt butter in medium saucepan over medium-high heat. Add 2 tablespoons sage; stir until butter begins to brown, about 3 minutes. Add cream and milk; bring to simmer.
Drain potatoes; return to pot. Stir over medium heat until excess moisture evaporates. Add cream mixture; mash potatoes. Stir in 1 3/4 cups cheese. Season potatoes with salt and pepper. Transfer to prepared dish. Sprinkle with 1/2 cup cheese and 1 teaspoon sage. (Can be made 2 days ahead. Cover with plastic; chill.)
Preheat oven to 375°F. Bake potatoes uncovered until heated through and golden brown, about 45 minutes.
Broccoli Gratin
1 pound broccoli florets
1 pound Yukon Gold potatoes , peeled and cut into 1-inch chunks
2 cups water
Pinch ground nutmeg
3/4 cup (about 21/2 ounces) Parmesan cheese, freshly grated
Salt and coarsely ground black pepper
In 4-quart saucepan, place broccoli, potatoes, and water. On high heat, cover and heat until boiling. Then reduce heat to medium-low and cook, covered, 17 to 20 minutes, or until potatoes and broccoli are very tender, stirring once halfway through cooking.
Meanwhile, preheat broiler and set oven rack 6 inches from source of heat.
Drain vegetables in colander set over large bowl, reserving 1/4 cup vegetable cooking liquid. Return vegetables to saucepan. With potato masher or slotted spoon, coarsely mash vegetables, adding some reserved cooking liquid if mixture seems dry. Stir in nutmeg, 1/4 cup Parmesan, 1/2 teaspoon salt, and 1/4 teaspoon pepper.
In shallow, broiler-safe 1- to 11/2-quart baking dish, spread vegetable mixture; sprinkle with remaining Parmesan. Place dish in oven and broil 2 to 3 minutes or until Parmesan is browned.
Chocolate-Pecan Pie
1 1/4 cups all-purpose flour
1/2 teaspoon salt
2 tablespoons shortening
8 tablespoons (1 stick) margarine or butter
2 ounces unsweetened chocolate, (1 square = 1 ounce)
1 3/4 cups pecan halves
3/4 cup dark brown sugar, packed
3/4 cup dark corn syrup
1 teaspoon vanilla extract
3 large eggs
In medium bowl, mix flour and salt. With pastry blender or two knives used scissor-fashion, cut in shortening and 4 tablespoons margarine or butter (1/2 stick) until mixture resembles coarse crumbs. Sprinkle 3 to 4 tablespoons cold water, 1 tablespoon at a time, into flour mixture, mixing lightly with fork after each addition until dough is just moist enough to hold together. Shape dough into a disk.
On lightly floured surface, with floured rolling pin, roll dough into a round 1 1/2 inches larger all around than inverted 9-inch pie plate. Gently ease dough into pie plate; trim edge, leaving 1-inch overhang. Fold overhang under; pinch to form decorative edge. With fork, prick bottom and side of piecrust in many places to prevent puffing during baking. Cover and refrigerate pie crust at least 30 minutes.
Meanwhile, preheat oven to 425 degrees F. In heavy 1-quart saucepan, melt unsweetened chocolate with remaining 4 tablespoons margarine or butter over low heat, stirring frequently. Set aside to cool slightly.
Line pie shell with foil and fill with pie weights, dry beans, or uncooked rice. Bake piecrust 10 minutes; remove foil with weights and bake 10 minutes longer or until lightly browned. If pastry puffs up during baking, gently press it to pie plate with back of spoon. Cool piecrust on wire rack at least 10 minutes. Turn oven control to 350 degrees F.
Coarsely chop 1 cup pecans; reserve remaining pecan halves.
In large bowl, with wire whisk, mix cooled chocolate mixture, brown sugar, corn syrup, vanilla, and eggs until blended. Stir in chopped pecans and pecan halves.
Pour pecan mixture into cooled crust. Bake pie 45 to 50 minutes until edges of filling are set (center will jiggle slightly). Cool pie on wire rack.
Pumpkin Cheesecake Crème Caramel
Water
1 orange
1 1/4 cups sugar
1 package (8 ounces) cream cheese, softened
1 cup canned pure pumpkin, (not pumpkin-pie mix)
6 large eggs
1 can (12-ounce) evaporated milk
1/2 cup heavy or whipping cream
1/4 cup orange-flavored liqueur such as Grand Marnier or triple sec
1 teaspoon vanilla extract
1 teaspoon ground cinnamon
1 pinch ground nutmeg
Salt
Preheat oven to 350 degrees F. Fill kettle or covered 4-quart saucepan with water; heat to boiling over high heat.
Meanwhile, from orange, with vegetable peeler, remove 6 strips peel, about 3" by 1" each. With knife, trim off as much white pith as possible from peel. In 1-quart saucepan, heat orange peel, 3/4 cup sugar, and 1/4 cup water to boiling over medium heat; cover and cook 5 minutes. Remove cover and cook 1 to 2 minutes longer or until sugar mixture is amber in color. Pour hot caramel into 9" by 5" metal loaf pan. With fork, remove and discard orange peel. (Hold loaf pan with pot holders to protect hands from heat of caramel.) Set pan aside.
In large bowl, with mixer on medium speed, beat cream cheese and remaining 1/2 cup sugar 2 minutes, occasionally scraping bowl with rubber spatula. Beat in pumpkin, then eggs, 1 at a time. Reduce speed to low; beat in evaporated milk, cream, liqueur, vanilla, cinnamon, nutmeg, and pinch salt just until well mixed.
Pour pumpkin mixture through medium-mesh sieve over caramel in loaf pan, pressing it through with rubber spatula. Place loaf pan in 13" by 9" baking pan; place in oven. Carefully pour boiling water into baking pan to come three-quarters up sides of loaf pan.
Bake 1 hour and 10 to 15 minutes or until knife inserted 1 inch from edge of custard comes out clean (center will jiggle). Remove loaf pan from baking pan to cool on wire rack 1 hour. Cover and refrigerate crème caramel at least 8 hours or overnight.
To unmold, run small metal spatula or knife around sides of loaf pan; invert crème caramel onto serving plate. Leave loaf pan in place several minutes, allowing caramel syrup to drip from pan onto loaf. (Don't worry if some caramel remains in loaf pan.)
Make ahead:
Bake dessert up to 2 days ahead. Leave in loaf pan for easy transporting, and unmold at your destination. Since the shape of the dessert is unusual and there is a lot of caramel sauce, don't forget to bring a deep rectangular platter.
Whether you try these recipes or alter your own, simplify this Thanksgiving Day by preparing as much as you can ahead of time. Then sit back and enjoy your wonderful meal and all the wonderful thing you have to be thankful for!
---
If you have any additional tips that you'd like to add, please post them on the
Cook'n Club Forum
(if you're a
Cook'n Club Member
)...or e-mail them to
Dan@dvo.com
.
---
Join the Cook'n Club!An unbeatable value with exclusive benefits for members only.
Enjoy articles like this and many other benefits when you join the Cook'n Club.
---