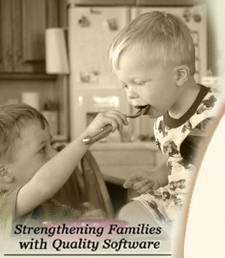 ---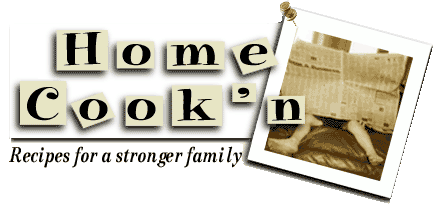 It's a Wrap!
By Camille Rhoades
Breakfast, lunch, or dinner wraps are a great way to pack a whole meal into one portable handful so you can get out the door and on your way.
Our family enjoys Low-Fat Southwestern Wrap with fillings as simple as eggs and bacon wrapped in a tortilla.
For lunch we often eat deli meats with lettuce, tomatoes, and all our favorite sandwich dressings as a delicious wrap.
At dinner you can enjoy those or one of many more fancy wrap recipes. The options are endless. We love everything from peanut butter and honey wraps to Santa Fe Chicken wraps, right on down to cinnamon sugar wraps.
However you prepare it, a wrap is a great option for a busy day. We are all busy and some days are better than others. If you know a busy day is ahead, take a few minutes to prepare your wrap and then package it tightly in plastic wrap and refrigerate it until you are ready to go.
They can be eaten right way or tossed in a cooler and enjoyed later. Some ingredients will keep longer than others, so it is wise to consider the time it will be in the fridge or a cooler when you are deciding which recipe you want.
The following are just a handful of ideas for wraps:
Alaskan King Crab Wrap Sandwich - Brie and bacon provide contrast to crab meat in this wrap.

Bail-Out Bean Burritos - Recipe calling for canned refried beans, spices, tortillas, tomato, cheese, salsa, and yogurt.

Black Bean Burrito Wraps - Made with onion, bell pepper, beans, jalapeno peppers, and cream cheese wrapped in tortillas.

BLT Wraps - Bacon, cream cheese, tomatoes, avocado, spinach, and alfalfa sprouts rolled in tortillas.

Bourbon Smoked Turkey Wrap - Turkey for this wrap is soaked in bourbon for 24 hours.

Charbroiled Turkey California Sandwich Roll - Turkey steaks are wrapped with peppers, spinach and alfalfa sprouts.

Cheese and Egg-Salad Crepewiches - These crepes are stuffed with pimento and sweet pickle egg salad.

Cheesy Chicken Tortilla Sandwiches - Stir-fried chicken, onion, pepper strips, wrapped in tortillas spread with cheese.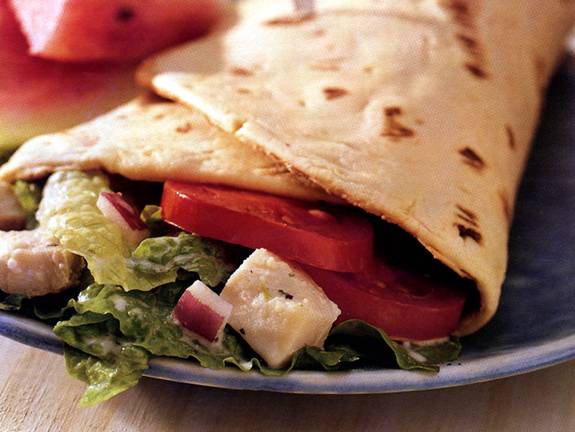 Chicken Club House Wraps - Sliced, grilled chicken wrapped in tortillas spread with mayonnaise and mustard.

Chicken Cordon Blue Wrap - Made with strips of grilled chicken, sliced ham, and Swiss cheese rolled in tortillas.

Chipotle-Lime Flank Steak Salad Wraps - Marinated grilled steak rolled in tortillas with mixed greens, pepper, papaya, and cheese.

Chunky Guacamole with Shrimp Wraps - Avocado mixed with lime juice and jalapeno pepper, spread on tortillas, covered with shrimp and sliced tomatoes.

Cinnamon Sugar Dessert Wrap – Butter a tortilla and sprinkle with cinnamon and sugar mixture. Then heat in the microwave for 15 seconds.

Greek Salad Roll Ups - Tortillas filled with chicken, tomatoes, olives, cucumber, and mixed salad greens.

Hoagie Wrap – Made with any deli meats and toppings.v
Italian Turkey Club Wrap - Prosciutto, baby spinach, roasted red peppers, turkey breast and Provolone cheese are wrapped in basil flavor tortillas.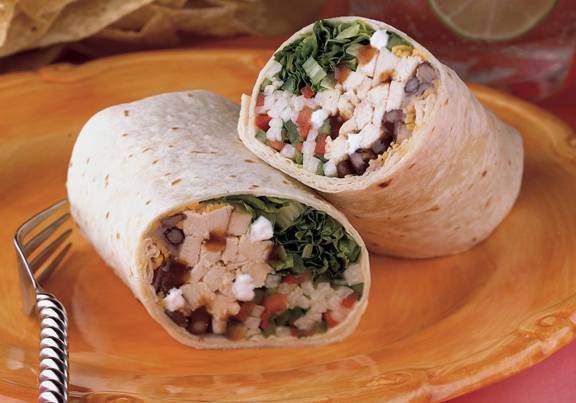 Low-Fat Southwestern Chicken Wrap - Chicken, beans, corn, bell pepper, and Provolone cheese wrapped in tortillas.

Marinated Steak and Portobello Mushroom Sandwich - Steak and mushroom are wrapped with balsamic vinaigrette and peppers.

Mexican Bean Sandwich - Made with beans, lettuce and tomato rolled in tortillas.

Mexican Guacamole Melt - A warm wrap filled with turkey steak strips, avocado and two kinds of cheese.

Mexican Sausage Wraps - Tortillas spread with quacamole, wrapped around pork sausage, lettuce, salsa, and sour cream.

Miracle Roll-Ups - Rice, salsa and nacho cheese fill a flour tortilla.

Peanut Butter and Jelly Wrap
Peppered Turkey Roll-Up Sandwich - A simple recipe with turkey, cheese, dressing, spinach and red onions.

Pesto Chicken & Pepper Wraps - Marinated grilled chicken and peppers wrapped in tortillas with Mozzarella cheese, lettuce, orange slices and chiles.

Piki Wraps - Tomatoes, chipotle chiles, beans, and rice wrapped in blue corn tortillas or piki bread.

Pizza Wrap - Pizza sauce, mushrooms, pepperoni and Mozzarella cheese fill a tortilla.

Red, White, & Yellow Spinach Wrap - Saffron rice, bell peppers, chicken, spinach, and Cheddar cheese wrapped in tortillas.

Roast Beef Roll Ups - Sliced beef rolled in tortillas spread with sour cream and salsa.

Rolled Olive Sandwiches - Bread slices spread with cheese and green olive slices, then rolled.

Santa Fe Chicken Wraps – Chicken, black beans, corn, and salsa cooked in a slow cooker and then wrapped in a tortilla with cheese.

Smoked Duck Scallion Wrap with Chipotle Mayonnaise - Sliced duck with water chestnuts, and tomatoes wrapped in scallion pancakes.

Smoked Turkey Breast Wrap with Cheddar and Cranberry Chutney - Horseradish, ginger and cranberries combine in this unusual wrap.

Southwestern Tofu Wraps - Tofu is served with red onion, garlic, lime juice and cilantro.

Southwestern Tortilla Wrap - Made with beans, Cheddar cheese, avocado, alfalfa sprouts, and salsa.

Spam Imperial Tortilla Sandwiches - Spam mixed with cream cheese spread on tortillas, topped with cucumber, sunflower seeds, and alfalfa sprouts and rolled.

Texas Steak Sandwich - Tortillas filled with steak and a low fat cucumber salsa.

Thai Chicken Wraps - Chicken, cabbage, carrots, pepper, peanut butter, coconut, and rice wrapped in tortillas. Includes recipe for sour cream and peanut butter dipping sauce.

Turkey Wraps with Chipotle Mayonnaise - Prepackaged ingredients make this a simple wrap.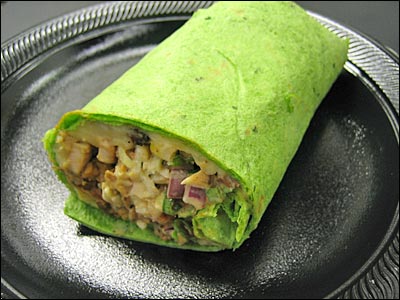 Vegetarian Burritos - Beans, cheese, lettuce, and salsa rolled in tortillas. May use pita bread as a variation.

Veggie Tortilla Wraps - Made with cheese, sliced avocado and grilled vegetables.

Vietnamese Grilled Steak Wraps - Marinated grilled steak wrapped in tortillas with lettuce, fresh mint, garnished with star fruit and red bell pepper.


The choices are endless so whether you are running out the door to an appointment or off for a day at the lake try a wrap as a convenient, healthy, and delicious meal.
---
If you have any additional tips that you'd like to add, please post them on the
Cook'n Club Forum
(if you're a
Cook'n Club Member
)...or e-mail them to
Dan@dvo.com
.
---
Join the Cook'n Club!An unbeatable value with exclusive benefits for members only.
Enjoy articles like this and many other benefits when you join the Cook'n Club.
---