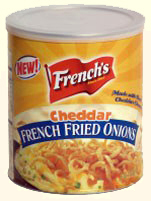 Toppings and Garnishes Add a little style to your casserole by using toppings and garnishes. Here are a few suggestions to get you started:
Casserole Toppings - Add any of these before or during cooking.
French fried onions
Crushed potato chips
Bread crumbs
Crumbled bacon
Grated or shredded cheese (add near end of cooking)
Cracker crumbs
Buttered herbed bread crumbs
Chopped pecans or other chopped nuts

Casserole Garnishes
Tomato wedges, slices
Shredded lettuce
Pimiento-stuffed olives
Fresh parsley or herbs
Sliced hard-cooked eggs
Sliced green onions
Shredded cheese
Avocado slices
Sour cream
Cilantro
---
* DVO welcomes your kitchen hints and cooking or nutrition questions! Email us and we'll post your hints and Q/A's in upcoming newsletters!