Stuffed Potato Balls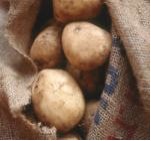 I just came upon your web site and looked at the recipe for stuffed potato balls. Since we have been told by our doctor to avoid fried foods, is it possible to bake or "oven-fry" this?
Thanks in advance for you assistance,
Marcita
---
Hi Marcita,
I don't see why not! Since the meat filling is already cooked, you really just want to bake the balls long enough to make them attractively brown and hot. Try baking at 350-degrees F. for 20-25 minutes (that might be too long--check frequently). If that isn't long enough, you might try baking them at a higher temperature. Be sure to grease the pan well that you bake them on. Also, you can probably skip the part about coating the balls with cornstarch. You could try rolling them in crushed cornflakes or bread crumbs for a different look and crunch.
Hope this helps,
Desi @ DVO
Email your thoughts to us. Tell us about you and your family, and send us a picture. We'd love to hear from you...and who knows...perhaps you will be the star of the next newsletter!