Scoop Solutions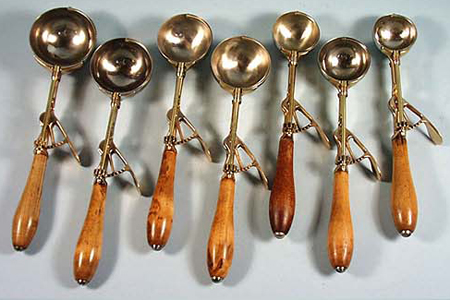 Wouldn't you love to own these?!
---
I'm the lady that got you first interested in PAYPAL. now I have another tip for you that I have used for years.
I use a 4 oz ice cream scoop to make pancakes; and to fill cup cake pans. Less mess. I watched the video included with the muffins, and thought I'd pass along my hint as I fed 32 people every day for 25 years and never spilled a drop on my muffin tins.
Another thing I learned was to peel onions at the stove and keep one of the small burners on and you'll never shed a tear. The heat dries the onion vapors before they reach the eyes.
Keep up the good work.. If you ever run across a good recipe for SALT-RISING bread, the stinky bread, that can be made in a bread machine (2lb) please send it to me.
Thanks, Myrley