Spaghetti without the Mess
by Amy Hunt
Eating spaghetti can be a very intimidating task at times; especially when people who think that you just might have manners surround you.

Small splashes of sauce seem to gravitate to the face, chin, and shirt areas when spaghetti is served. And have you ever taken a bite and realized that there were straggling noodles hanging from your mouth. I personally have a rule that I will do everything possible to avoid eating spaghetti in a public place.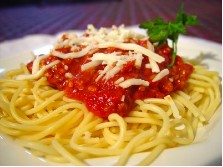 The following advice just might give you some confidence when eating spaghetti. It comes from the Italian site called Mangiare Bene. Even if it doesn't help your manners, it just might make you laugh.
To eat spaghetti can at first be quite difficult for anyone who approaches. But if you always remember the following:
• Even many Italians are not so good at it.
• Spaghetti is banished from every official banquet so that no guest will feel embarrassed at the guaranteed mess it makes.
• Perfection is impossible, not needed and not requested.
• Every morsel is different from the next.
• Your capability is no less than that of the people around you!
Therefore don't feel discouraged and start eating: take your fork and try the movement a few times on an empty plate; you must turn it as if winding something, using your thumb, forefinger, and middle finger.

Now wind up a reasonable quantity of spaghetti onto your fork; if at first you wind too much, try again until you get the right amount. Then put them into your mouth quickly using your fork to help push in any spaghetti that remained outside.

Bravo! It's done! In a short time you will be as good as an Italian!
Hands: In Italy we keep our hands on the table throughout the meal. Not elbows!
Starting: It is considered polite to wait for everyone to be served and then to start eating together when the hostess or eldest lady begins.

End of a Course: At the end of each course the knife and fork should be left on the plate, parallel, facing North-South.
* DVO welcomes your kitchen hints and cooking or nutrition questions! Email us and we'll post your hints and Q/A's in upcoming newsletters! *