Pasta Perfection
by Amy Hunt
By following a few simple guidelines when cooking pasta, either homemade or store bought, you can insure pasta perfection and get the best results possible.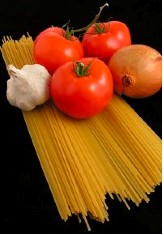 Match the pasta to the sauce. Light sauces such as creamy tomato with baby shrimp go well with angel hair pasta or small shells. For a heavy ragu' sauce choose a thicker pasta like rigatoni or spaghetti.


Use a large pot to cook the pasta. You need about one quart of water for every 3.5 oz of pasta used.


Bring the water to a boil and then add about 1 teaspoon of salt per quart of water.


Never add oil to your water. It makes the pasta slippery preventing the sauce from adhering correctly.


Once the water is boiling rapidly, add the pasta and stir to prevent sticking. Follow package recommendations for cooking time, remembering to stir every few minutes. Just before the suggested time is up, taste the pasta to determine if it is done. It should be cooked, but yet still firm to the teeth. Remember, the pasta will continue to cook a little after being removed from the heat.

Before draining the pasta, take out a small cup of the water and set it aside. If the pasta seems a little dry once the sauce has been added, you can use the water to add moisture. After you have drained the pasta, do not rinse it, unless it is to be used in a salad. The startch left on the noodles after boiling will help the sauce adhere.
Once it has been drained, return the pasta to the pot over medium high heat with about one half of the sauce. Cook, stirring continuously for a minute or two. This is a trick used in restaurants, that both helps the sauce meld with the pasta, as well as ensure the dish will arrive at the table piping hot. Use the rest of the sauce on top of the pasta when serving.



* DVO welcomes your kitchen hints and cooking or nutrition questions! Email us and we'll post your hints and Q/A's in upcoming newsletters! *