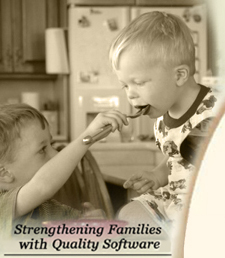 Easily adjust serving sizes with this
easy-to-use cooking program

After 12 years in this business I've heard it all:
I need help adjusting serving sizes, analyzing nutritional values, etc. etc.
I want something to help me organize all of my own recipes
I just want to print a family cookbook for my kids
I want to e-mail & share recipes with family & friends
These are natural requests because right now most people:


Mess up their recipe because they struggle to adjust the serving sizes correctly
Have piles of recipes written on scraps of paper and clipped from magazines
Spend more time looking for the recipe than they do preparing it!
Find a good recipe on the Internet, print it, and then lose the paper!
Get tired of re-writing the same recipe again and again when they want to share it
Imagine using your home computer to organize all of your recipes. Cook'n is an easy-to-use Cooking Program that makes managing your recipes using your home computer a snap!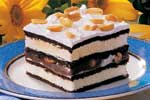 Adjust serving sizes instantly
Organize and categorize all of your recipes on the computer
Print a cookbook with the click of your mouse
E-mail recipes for you
Search thousands of recipes in seconds
Make weekly menus & grocery shopping lists
Analyze the nutritional values of your recipes
Cook'n's Recipe Manager makes entertaining a snap. Simply select the number of guests you will be serving and enter it into your favorite recipe. Cook'n calculates the new ingredient amounts for you. No more of that measuring madness!
Cook'n has simple cookbook-like chapters and categories that make it easy to find your recipes fast.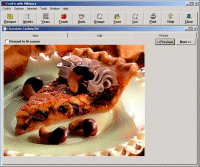 Cooking has never been easier with a cooking program like Cook'n, you will be able to make wonderful dishes that have been tested by professionals assuring you of quality recipes that will make your cooking experience easy.

for Windows 7/Vista/XP/NT/ME/2000/9x

Not sure what to order?


Piles of recipe cards in your drawer?
Download Cook'n today and get organized!
Cook'n Cooking Program Download - MSRP $99.95
(Save 20%)
Download: $79.95
CD: $79.95

Buy the CD or download the full version of Cook'n right now! Includes over 300 of our best recipes.
---
---