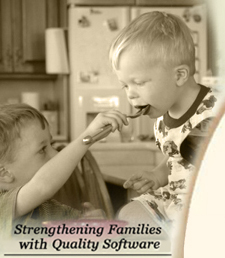 TOP SELLERS
This software ROCKS. I spent 20 years trying to find any evidence of my Gr-grGrandfather. I bought this software to help me maintain my files and I was able to find my lost ancestor with a Search. I now have charted close to 85% of my Family since the arrival of the Original Emmigrant from France. I highly recommend this software to anyone.

• Current Issue
• Newsletter Archive
• Contact Info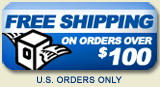 Family Tree Maker 2005
The #1 Selling Genealogy Software!
Family Tree Maker 2005 The easy way to build, search & share your precious family history and help you bridge the gap across the years.


Organizing Your Family History Just Got A Whole Lot Easier!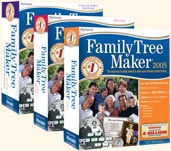 With Family Tree Maker 2005 You Can:
- BUILD your family tree
- SEARCH over 4 billion records
- DESIGN family albums & keepsakes
- SHARE your family legacy


Availability: Usually ships within 24 hours
Family Tree Maker 2005 can get you started doing genealogical research on you family's history and help you bridge the gap across the years in just 4 easy steps:


Step 1 - Build your family tree
Getting Started is easy. Simply enter what you already know starting with yourself, and then watch you tree take form. If you need more help, a Getting Started Tutorial will walk you through this process step-by-step.

Use Family Tree Maker to record and organize all of the information you collect on your family - create tree charts, reports, calendars, scrapbooks, heirloom-quality books and more!


Step 2 - Search for ancestors
Family Tree Maker will automatically search the largest online collection of family history information - Ancestry.com - for your ancestors based on the information in your tree. The Web Search report will allow you to compare the search results side-by-side with the information in your tree, so you can quickly determine wether the information is relevant to you. The new Web Merge feature lets you import the information directly into your Family Tree Maker file instantly.


Step 3 - Design and personalize
Bring your family story to life by customizing a wide variety of charts and reports with images, photos, colors, fonts, borders and box styles. Add your own personal touch and style!


Step 4 - Share with family and friends
Give your relatives a beautiful family book filled with stories, charts, photographs, maps, timelines and much more - it's easy to create in Family Tree Maker. Or you can share your work digitally - on CD-ROM or through a free Internet homepage.

Submitting your family tree to MyFamily.com's collection of user-submitted trees lets you share your discoveries with the entire genealogy community. It's a great way to connect with other researchers who may be part of the same family line.
All of the Family Tree Maker 2005 products include:
Family Tree Maker 2005 - Full Version
Special Offers in Welcome Kit:

40%-60% Off Additional Subscriptions

US Records, Census, UK & Ireland...

20%-50% Off Books, CDs and Training

25% Off Ancestry or Genealogy Computing Magazines

25%-60% Off Other 3rd Party Products


(Zoom In)



Standard Edition Bonus:


1-Year Subscription to OneWorldTree ($50 Value)
FREE 15-Minute Call with a Trained Genealogist ($30 Value)















Family Tree Maker 2005 Standard Edition
Retail Value: $49.95
Sale Price: $39.95









(Zoom In)


Deluxe Edition Bonus:


1-Year Subscription to US Records Collection ($80 Value)
FREE 15-Minute Call with a Trained Genealogist ($30 Value)














Family Tree Maker 2005 Deluxe Edition
Retail Value: $69.95
Sale Price: $59.95






Availability: Usually ships within 24 hours