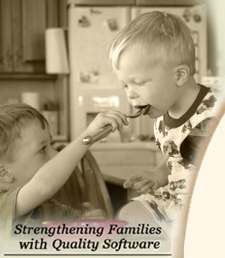 TOP SELLERS
• Current Issue
• Newsletter Archive
• Sign Up Now


• Contact Info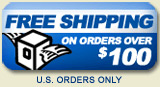 I am here to say THANK YOU! Your software is great!!!

When I read the description of the recipe program, I thought it was too good to be true (the price, the ability of the software, etc.). I even called your company by telephone to ask if I understood the promotional information correctly.

Upon receiving it and using it, I have discovered that every bit of it is true! (I LOVE the nutritional calculation feature!) Thanks so much for your product and for keeping it affordable, too!

Debi Self Read more...

Light Gingerbread and Red Raspberry Sauce
DVO Recipe Center
Serves: 9

2 cups flour
1 teaspoon baking soda
1 teaspoon ginger
1 teaspoon cinnamon
1/4 teaspoon cloves
1 cup skim milk
1/2 cup light molasses
2 egg whites or 1/4 cup egg substitute
2 tablespoons margarine, melted
1 (10-ounce) package raspberries in light syrup, thawed
1 cup reduced-calorie prepared whipped topping


In a large bowl, combine flour, baking soda, ginger, cinnamon, and cloves. Set aside. In a small bowl, combine milk, molasses, egg product, and melted margarine. Stir into flour mixture until smooth. Spread batter into a greased 8x8-inch-baking dish. Bake at 350 F. for 35-40 minutes or until a toothpick inserted in the center comes out clean. Cool slightly on a wire rack. To make raspberry sauce, puree thawed raspberries in a blender until smooth. Strain to remove seeds. To serve, cut gingerbread into squares, drizzle with raspberries, and garnish with whipped topping.




Help on downloading recipes

---


for Windows 9x/2000/ME/NT/XP/Vista

Not sure what to order?


Piles of recipe cards in your drawer?
Download Cook'n today and get organized!
Cook'n Cookbook Software Download - MSRP $99.95
(Save 20%)
Download: $79.95
CD: $79.95

Buy the CD or download the full version of Cook'n right now! Includes over 300 of our best recipes.
---
Copyright © 2007 DVO Enterprises, Inc.