Glazed Meatloaf
DVO Recipe Center
Serves: 6 - 8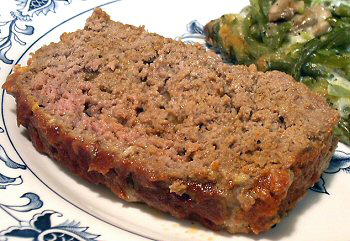 Ingredients:
1/2 cup ketchup
1/3 cup brown sugar
1/4 cup lemon juice, divided
1 teaspoon mustard powder
2 pounds ground beef
3 slices bread, broken up into small pieces
1/4 cup chopped onion
1/4 cup chopped onion
1 teaspoon beef bouillon granules
Preheat oven to 350 degrees F (175 degrees C).
In a small bowl, combine the ketchup, brown sugar, 1 tablespoon lemon juice and mustard powder. In a separate large bowl, combine the ground beef, bread, onion, egg, bouillon, remaining lemon juice and 1/3 of the ketchup mixture from the small bowl. Mix this well and place in a 5x9 inch loaf pan.
Bake for 1 hour, drain any excess fat, coat with remaining ketchup mixture and bake for 10 more minutes.
Help on downloading recipes
Be sure to check the Cook'n Recipe Archive for more recipes.