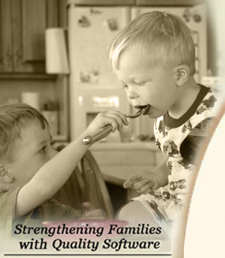 Cook'n Club Home
Subscribe Now!

Cook'n Forum
HomeCook'n Archive
Give-Aways

Another post from the Cook'n Club Forum:

What a treat to have this board here. I can't wait to watch it grow, and have absolutely no doubts that it will be a wonderful place where we can come back over and over again.
The Newsletter - the Forum - Thanks so very much!

MudMouse


Volume I - June 18, 2010
NO MORE BLOOD-SUGAR BLUES!
Sure-Fire Sugar-Free Treats
by Alice Osborne


If you have diabetes, that doesn't mean you can't eat sweets. People with diabetes can eat desserts, use sweeteners, and still keep their blood glucose (sugar) levels in their target range. These options are available for sweetening your foods:
Sugar and other sweeteners with calories including honey, brown sugar, molasses, fructose, cane sugar, and confectioners sugar

From the American Diabetes Association website, we found this encouraging information:

In the past, people with diabetes were warned to completely avoid sugar. Experts thought that eating sugar would rapidly increase blood glucose, resulting in levels that were too high. Some people even thought that eating sugar caused diabetes, an idea that we now know isn't true.

Research has shown that the total amount of carbohydrate affects blood glucose levels the most. But, the type of carbohydrate (e.g. sugar vs. starch) can also affect blood glucose levels. Now experts agree you can eat foods with sugar as long as you work them into your meal plan as you would any other carb-containing food. The same guidelines apply to other sweeteners with calories, including brown sugar, honey, and molasses.

All this said, we are including three great sweet treats made with agave—perhaps the best sugar substitute around. (NOTE: You may need to adjust the agave to your taste — don't be afraid to experiment a little.)

Pecan Sugar-Free Fudge



16 ounces softened cream cheese
2 squares baking chocolate
2-3 TBSP agave nectar
1 teaspoon vanilla
1 ˝ cup chopped pecans

Cream the cream cheese which has been softened previously in a bowl, then add the pecans, chocolate squares which has been melted and cooled sufficiently, the vanilla essence and the sugar substitute and blend thoroughly. Pour the mixture into an oven dish or any other flat dish lined with foil and refrigerate it. Cut it into 1-inch squares and serve chilled after 10-12 hours of refrigeration.



Download this recipe.
Wheat Cookies
Ideal For Diabetics

1/3 cup cooking oil
3 Tbsp agave nectar
1 teaspoon vanilla extract
1 egg
1 cup wheat flake cereal
2 cup wheat flour
1 teaspoon baking powder
2 tablespoons wheat germ
1 cup raisins
1 teaspoon baking soda
1 tablespoon water
Chop the raisins and keep aside. Then take a bowl and start adding the ingredients one after the other and mix thoroughly except the baking soda which also has to be added but in the end mixed with a little water with the bubbles rising to the top and again mix the mixture properly so that a perfect cookie mixture is made. Pour it in small lumps on a greased cookie sheet and bake in an oven, which has been set at 350 degrees F for 8-12 minutes.

Download this recipe.
Sugar-Free Pecan Pie

2 eggs
3/4 cup skim milk
1/3 cup water
2 TBSP agave nectar
Sugar-free vanilla pudding (not instant): 0.8 ounce
1 9- inch unbaked pie shell
1/2 cup chopped pecans
1/2 cup Grape Nuts cereal
Preheat oven to 350 F. Mix water with fructose and boil over low heat for 5 minutes and keep it to cool. Add dry pudding into agave mixture and mix with skim milk and eggs. Mix all ingredients well. Then, pour the mixture into pie shell, sprinkle pecans and grape-nuts on top and bake for 30 minutes, until the top is firmly set. Cut it after one or two hours.

Download this recipe.
---
Contribute to the Cook'n Club!
DVO would love to publish your article, prose, photography and art as well as your cooking, kitchen and nutrition tips, tricks and secrets. Visit the Newsletter Submission / Win Win for All section in our Forum for more information and details.
---
---