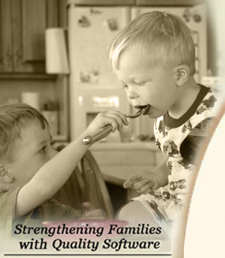 Volume I - June 18, 2010
Hearty Casseroles
by Alice Osborne


Brenda Hyde, from OldFashionedLiving.com, shares these recipes and asks a good question: Where would family cooks be without casseroles? Here at Cook'n, we know what she means. They are satisfying, easy to make, and frugal all at the same time. The following recipes are perfect for dinner, when served with a nice green salad and bread. When you have extra time, make bread sticks and saute whole steamed green beans in butter and garlic then season with salt and pepper. Fresh fruit is a great after dinner treat since the casseroles are filling.
Baked in foil pans, these dishes can be taken to potlucks or family gatherings also. And they are wonderful as leftovers for work or school lunches, and actually taste better the second day!
Pizza Casserole
Serves 6

1 pound rotelle pasta
2 cans pizza Sauce
package stick pepperoni (unsliced)
2 12-oz. pkgs. Shredded Mozzarella cheese
1 small can Mushrooms
Cook rotelle according to package directions. Drain. Dice the sticks of pepperoni. Mix mushrooms and pepperoni into the pasta. In large casserole dish or 13x19 pan place a layer of pizza sauce, a layer of pasta mixture, and a layer of cheese. Repeat until all ingredients are used up.Bake at 375 for 20 minutes or until bubbly.

Download this recipe.
Mexican Lasagna
Serves 6-8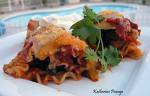 1 pound lean ground beef
1 6 ounce can tomato
1 package enchilada sauce mix (dry mix in envelope)
12 flour tortillas
3 cups water
1 8 ounce block each of Monterey Jack and mild cheddar cheese, grated
Brown ground beef; add enchilada sauce mix, tomato paste, and 3 cups water. Simmer 10 minutes. In 9x13 baking pan place a spoon of sauce on the bottom. Layer tortillas, meat mixture, and cheeses. Continue layering, ending with both cheeses. Bake at 350 for 30 minutes or until cheese is melted.

Download this recipe.
Spaghetti Casserole
Serves 6-8

1 pound lean ground beef
1/2 pound hot Italian Sausage
1 medium diced onion
1 clove minced garlic
1 16-ounce can tomatoes
1 6-ounce can tomato paste
1 teaspoon basil
1/4 teaspoon salt
1/4 teaspoon pepper
6 ounces spaghetti
1/4 cup melted butter
1/2 cup grated Parmesan cheese
2 beaten eggs
1 cup cottage cheese
1 1/2 cups shredded mozzarella cheese
Brown meat and drain well. Add onion and garlic; sauté until tender. Stir in tomatoes, tomato paste and seasonings. Cover and simmer 20 minutes. Cook spaghetti; drain. Mix in butter, Parmesan cheese and eggs with the spaghetti. Line a greased 10-inch pie plate or cake pan with spaghetti to form a crust. Spoon cottage cheese over crust. Top with meat sauce and mozzarella cheese. Bake at 325 degrees for 45 minutes. Serves 6-8.

Download this recipe.
Western Casserole
Serves 4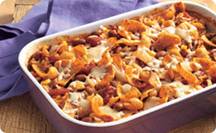 1 1/2 pounds ground beef
1 clove garlic
1/4 cup finely chopped onion
1 teaspoon salt
2 tsp. chili powder
1 tsp.cayenne pepper sauce (optional)
2 cans red beans, drained
3 cups tomatoes with juice
1 cup uncooked rice
1 cup cheddar cheese
Corn chips (optional)
Brown beef with garlic. Add onion, and cook until onion is transparent. Drain fat. Either chop tomatoes or put in blender. In large casserole, combine the meat mixture, salt, chili powder, beans, tomatoes and rice. Bake covered, at 350 degrees for 30 minutes. Uncover and sprinkle with cheese, and garnish with corn chips if desired. Bake 15 minutes more.

Download this recipe.
Pork Chop Casserole
Serves 6
3/4 cup whole wheat flour
1 teaspoon salt
1/2 teaspoon pepper
6 pork chops
2 tablespoons olive oil
1 can (10-3/4 ounces) condensed cream of mushroom soup, undiluted
2/3 cup chicken broth
1/2 teaspoon ground pepper
1/4 teaspoon dried thyme
1 cup (8 ounces) sour cream, divided
1 can (2.8 ounces) French-fried onions, divided
In a shallow bowl, combine the flour, salt and pepper; dredge pork chops. (Cut off any visible fat from chops)Heat oil in a large skillet; cook pork chops for 4-5 minutes per side or until browned. Place in a single layer in an ungreased 13x9 inch baking dish, Combine soup, broth, pepper, thyme and 1/2 cup sour cream; pour over chops. Sprinkle with half of the onions. Cover and bake at 350° for 45-50 minutes. Stir remaining sour cream into sauce. Top chops with remaining onions. Return to the oven, uncovered, for 10 minutes.

Download this recipe.
---
Contribute to the Cook'n Club!
DVO would love to publish your article, prose, photography and art as well as your cooking, kitchen and nutrition tips, tricks and secrets. Visit the Newsletter Submission / Win Win for All section in our Forum for more information and details.
---
---