Have you grown tired of walnuts and almonds? Try this tasty nut Hawaii is known for: macadamia nuts. Turns out they're on the heart-healthy list - even though they contain saturated fat. In a study, a diet enhanced with macadamias significantly lowered both total and LDL cholesterol.
The fact that macadamias are so rich in unsaturated fats - more than almost any other nut - appears to make up for the fact that they also contain some saturated fat. And here's the heart-healthy proof: When people with moderately high cholesterol ate an average American diet for 5 weeks, then a diet with a handful of macadamia nuts mixed in daily for another 5 weeks, the nut diet lowered total and LDL cholesterol about 9 percent more than the nut-free fare.

But keep in mind that although the study diets were controlled so that they both had the same amount of total fat, the nut diet had less saturated fat and more monounsaturated fat. So if you eat macadamias, use them to kick out a source of unhealthy fat in your diet - don't just add them to what you already eat. For example, use them in a healthier version of the classic shortcake dessert - like Roasted Pineapple Shortcakes (see below; courtesy of Eating Well).
Not only are macadamias good for your insides, but they're good for your outsides, too. Why? Because of the rich nut oils, like oleic acid, omega fatty acids, and palmitoleic acid. Now, take a look at how nuts compare, fat-wise:
Roasted Pinepple Shortcakes
Serves 12
Shortcake isn't just for strawberries. Roasted pineapple and macadamia nuts give this version a Hawaiian twist and perfume the kitchen with a tropical fragrance. Leftover shortcakes freeze well and the pineapple is also great on its own.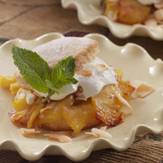 Shortcakes:
1 1/4 cups all-purpose flour
1 cup whole-wheat pastry flour
1/3 cup packed light brown sugar
2 teaspoons baking powder
1/4 teaspoon baking soda
1/4 teaspoon salt
1/3 cup chilled butter, cut into small pieces
1/2 cup buttermilk or equivalent buttermilk powder
1 tablespoon granulated sugar
Roasted Pineapple Filling:
1/2 cup unsalted chopped macadamia nuts or unsweetened flaked coconut
1 medium pineapple, peeled, cored and cut into bite-size triangles
2 tablespoons pineapple juice
1 tablespoon honey
1/2 teaspoon ground ginger
1/8 teaspoon ground cloves
Confectioners' sugar for dusting
Topping:
1 cup Vanilla Cream (recipe follows) or "lite" frozen whipped topping, thawed
Prepare Vanilla Cream, if using.
Preheat oven to 450°F. Coat a baking sheet with cooking spray. To prepare shortcakes: Whisk all-purpose flour, whole-wheat flour, brown sugar, baking powder, baking soda and salt in a large bowl. Cut in butter with a pastry blender or 2 knives until the mixture resembles coarse meal. Add buttermilk and stir with a fork until the dough just comes together. Turn the dough out onto a lightly floured surface; gather together and knead gently 5 or 6 times. Roll to a 1/2-inch thickness and cut out rounds with a 3 1/4-inch cookie cutter (see Equipment Tip). Reroll scraps and cut to make 12 shortcakes total. Place the shortcakes on the prepared baking sheet. Sprinkle with granulated sugar.
Bake the shortcakes until golden, 10 to 12 minutes. Transfer to a wire rack to cool.
To prepare filling: Spread nuts (or coconut) in a small baking pan and toast in the oven until light golden, 1 to 3 minutes. Coat a rimmed baking sheet with cooking spray. Combine pineapple, pineapple juice, honey, ginger and cloves in a large bowl; toss to coat. Spread on the prepared baking sheet. Roast at 450° until the pineapple is lightly browned around the edges and the juices are syrupy, 30 to 35 minutes. Let cool slightly.
To serve: Split the shortcakes with a serrated knife and place the bottoms on dessert plates. Top each with the pineapple, nuts (or coconut) and a dollop of Vanilla Cream (or whipped topping) and replace the tops. Dust with confectioners' sugar and serve.
Per serving: 249 calories; 11 g fat (5 g sat, 4 g mono); 20 mg cholesterol; 34 g carbohydrate; 4 g protein; 2 g fiber; 165 mg sodium; 150 mg potassium.
Nutrition bonus: Vitamin C (25% daily value).

2 Carbohydrate Servings. Exchanges: 2 other carbohydrate, 2 fat (saturated)
TIPS:
If you don't have a 3 1/4-inch cookie cutter, you can use a clean 6-ounce can, such as a tuna or salmon can. Store the shortcakes (Steps 2-5) in an airtight container for up to 8 hours.

Download this recipe.

To peel a pineapple:
Using a sharp knife, cut off the skin. To remove eyes, following the spiral pattern, cut grooves along the diagonal on either side of the eyes.
---
Contribute to the Cook'n Club!
DVO would love to publish your article, prose, photography and art as well as your cooking, kitchen and nutrition tips, tricks and secrets. Visit the Newsletter Submission / Win Win for All section in our Forum for more information and details.
---
---