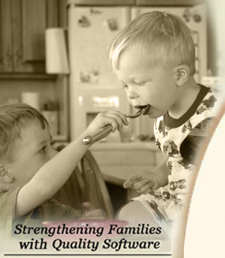 Cook'n Club Home
Subscribe Now!

Cook'n Forum
HomeCook'n Archive
Give-Aways

Another post from the Cook'n Club Forum:

What a treat to have this board here. I can't wait to watch it grow, and have absolutely no doubts that it will be a wonderful place where we can come back over and over again.
The Newsletter - the Forum - Thanks so very much!

MudMouse


Volume I - June 18, 2010
GLUTEN-FREE FOR ALL
More Tips and Techniques
by Alice Osborne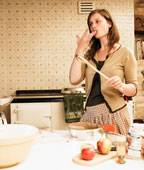 Cook'n reader, Margaret Hale, sent us a note (reminding us to be sure to check all sources carefully when recommending products) along with an article she found in the regional cooking magazine, TASTE OF HOME, which contains wonderful information we thought you'd be glad to have as well. Thank you Margaret!
We also wanted to continue our focus on the new Cook'n software coming out soon by Kirsti Kirkland and Betsy Thomas, so we're combining some of their information with information from the TASTE OF HOME ARTICLE. Also included are two delicious recipes from Kirsti's and Betsy's book, LIFE TASTES GOOD AGAIN (the new CD):
TASTE OF HOME:
Baking:

There are many kinds of flour that can be substituted for wheat flour when you bake gluten-free items. They include potato, tapioca, soy, rice, quinoa and millet.


If you follow a vegetarian diet, remember that some gluten-free flours are low in protein because they have had the gluten (a protein) removed. Look for those with added milk protein.


Gluten-free flour absorbs moisture from the air, so make sure to keep the flour sealed in the package. Don't allow the flour to sit uncovered in a mixing bowl for any period of time.


If your baked goods seem dry, try adding a little honey in place of a small portion of the sugar.

Altering Recipes:

Having celiac disease doesn't mean you have to give up all of your favorite foods. It takes some work, but you can convert some of your tried-and-true recipes and make them gluten-free. Here are some handy tips from the Celiac Sprue Association:


When substituting gluten-free flour for wheat flour, you'll get better results if you choose a recipe with very little flour.


"From-scratch" recipes are the best. Avoid those using convenience foods.


Choose recipes with ingredients that retain moisture, such as raisins, pumpkin, cranberries and chopped apples. Banana bread, pumpkin muffins and peanut butter cookies are good choices.


If you have access to a gluten-free cookbook, look for a recipe in the book that's similar to the one you want to convert and compare the proportions.

Finding Support:

There are several support groups that provide recipes and help patients adapt to a gluten-free diet.

American Celiac Society
P.O. Box 23455
New Orleans LA 70183-0455
(504) 737-3293

Celiac Sprue Association
P.O. Box 31700
Omaha NE 68131-0700
( 877) CSA-4-CSA
www.csaceliacs.org

Celiac Disease Foundation
13251 Ventura Blvd., Suite 1
Studio City CA 91604-1838
(818) 990-2354
www.celiac.org

Gluten Intolerance Group
15110 10 th Ave. SW, Suite A
Seattle WA 98166-1820
(206) 246-6652
www.gluten.net

The Food Allergy Network
11781 Lee Jackson Hwy., Suite 160
Fairfax VA 22033-3309
(800) 929-4040
www.foodallergy.org

LIFE TASTES GOOD AGAIN:


Make dry mixes ahead of time. Write on the bag what wet ingredients are needed and the date you put it together.

Save all stale/unused gluten-free bread for meatloaf, stuffing, casserole toppings, etc. Keep it in a closed container in the freezer until needed.

Watch the oven closely so you don't burn or over-bake anything.

Make notes in your recipe book so you know the kinds of modifications to make in the future.

Let your cakes sit with frosting or glaze on them. This not only keeps the cake soft and most, but adds flavor as well.

If using Bean Flour in any recipe, don't taste before baking! It tastes horrid raw, but absolutely wonderful once baked.

When baking cookies, don't beat the eggs too long. Beating the eggs too much causes cookies to refuse to spread out. They will still taste OK, but they will look like little cookie rocks. If this happens, mix an extra ½ tsp baking soda into the rest of the cookie dough, which will help the cookies spread a bit.

Always cover gluten-free baked goods. They dry out very quickly.

Don't be afraid to call companies about their product ingredients. The new labeling laws passed in 2006 require companies disclose if any of their products contain wheat.

THEY DON'T, HOWEVER, HAVE TO LIST barley or rye. Make sure you check every ingredient and not just the allergen warning. And if you have questions about any of the listed ingredients, don't buy the product until you ask.

Chocolate Cake



1 ¾ C gluten-free flour
½ tsp xanthan gum
2 C sugar
¾ C cocoa
1 ½ tsp baking soda
1 ½ tsp baking powder
1 tsp salt
2 eggs
1 C sour cream
½ C oil
2 tsp vanilla
1 C boiling water

Preheat oven to 350°. Grease a 9x13 pan and dust with gluten-free flour. Combine dry ingredients in medium bowl. In separate bowl, beat eggs well. Add sour cream, oil, and vanilla to the eggs. Beat in dry ingredients. Slowly stir in boiling water. Mix well, scraping down sides and bottom of bowl. Pour into prepared pan. Bake 35-40 min. or until a few crumbs still stick to an inserted toothpick.



Download this recipe.
Coconut Macaroons

1 (14 oz) bag shredded coconut
1 can sweetened condensed milk
1 tsp vanilla
Melted chocolate (optional) (But WHY leave this out, we say?)
Preheat oven to 350°. Mix coconut, condensed milk, and vanilla together. Scoop cookies onto a well greased cookie sheet. Bake 10-15 min. Cookies will be golden brown on the bottom. Remove cookies from pan promptly, as they will stick to the pan if you let sit. Once cool, dip the bottoms of macaroons into melted chocolate.

Download this recipe.
---
Contribute to the Cook'n Club!
DVO would love to publish your article, prose, photography and art as well as your cooking, kitchen and nutrition tips, tricks and secrets. Visit the Newsletter Submission / Win Win for All section in our Forum for more information and details.
---
---