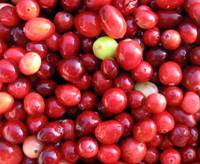 Cranberries are an under-appreciated fruit. Studies find that there are many more health benefits to eating cranberries that anyone previously supposed. Research has validated the old adage that drinking cranberry juice will reduce or eliminate instances of urinary tract infection, but other, more recent studies have also linked the lowly cranberry with increased benefits in fighting heart disease and cancer.
The Benefits of Cranberries in Combating Urinary Tract Infection
The proanthocyanidins in cranberries can inhibit bacteria from attaching to the wall of the urinary tract. This limits their ability to produce colonies and spread infection. Of course, your mother wouldn't be surprised by this news. She already knows that it's important to drink lots of cranberry juice if you are prone to urinary tract ailments.
Cranberries and Heart Disease
Because they contain flavonoids, studies reported by WebMD Medical News suggest that cranberries can be a weapon in the war against atherosclerosis, or what they used to call "hardening of the arteries". Flavonoids help reduce the amount of bad cholesterol clogging the walls of your arteries while increasing the level of good cholesterol in your system.
Cranberries and Cancer
Research at the University of Western Ontario cites increased ingestion of cranberries as a factor in inhibiting the development of breast cancer cells in animals. Although preliminary, this exciting research shows that diet changes can have an impact on our health and aid in fight disease.
Other Health Benefits of Cranberries
The good news doesn't stop there. Cranberries have also been associated with decreased production of cavity and plaque producing bacteria in your mouth, and in reducing the bacteria associated with peptic stomach ulcers.
Cranberries are in Many Food Products
Eating more cranberries can be easy and inexpensive. Cranberries, in one incarnation or another, have become more popular in recent years, growing from their isolated use as a festive holiday relish to a year round beverage, flavoring, and treat.
If you are inspired to reconsider your beverage choices in favor of cranberry juice, try the new lower sugar added varieties.
Cranberries are popping up all over your grocery store, so look for them as an ingredient in your muffin mixes, marinades, and dressings as well as the familiar canned varieties. Don't forget the dried cranberries available in your produce department, either.
Portable, natural, and nutritious, dried cranberries (with no sugar added) are a great snack or lunch box choice.
Cranberries, or bounceberries, are available fresh through most of the winter, and can be cooked o n your stovetop in a matter of minutes. The resulting sauce can be used as a healthy and flavorful accompaniment to pork, turkey, or any game animal. If you want to cut back on sugar, replace some of the sugar in your fresh cranberry recipe with AGAVE. If you want to include cranberries in your baking, why not try some cranberry pumpkin bread? It's low in fat, high in fiber and has the wholesome goodness of cranberries.
Cranberry Pumpkin Bread
4 eggs
1 29oz can of pumpkin puree (not pumpkin pie filling)
½ cup vegetable oil
3 cups sugar
4 ½ cups all-purpose flour
2 tablespoons pumpkin pie spice
2 teaspoons baking soda
1 teaspoon salt
4 cups cranberries
1. Preheat oven to 350 degrees Fahrenheit.
2. In a bowl, combine eggs, sugar, and oil. Combine thoroughly.
3. Mix the remaining dry ingredients together in a separate bowl.
4. Add the dry ingredients and the canned pumpkin, alternating the dry and the wet pumpkin puree. Mix just until combined.
5. Add the cranberries to the batter.
6. Divide the batter evenly between two ungreased bread pans (9x5 size).
7. Bake for 60 minutes.
Every oven is different, so after 60 minutes of baking, test the bread with a wooden skewer to determine if it is done. If the skewer comes out clean, the bread is done. If batter clings to the skewer, put the bread back in the oven in 10 minute increments until the bread tests done.
Recipe makes two loaves, 12 servings per loaf.
253 calories/5.5 grams fat/ 2 grams fiber

Download this recipe.
Add more cranberries to your diet and take advantage of the health benefits associated with this colorful fruit. The cranberryinstitute.org has an excellent research section with an extensive bibliography if you want additional information about cranberries and your health. Meanwhile, here's another fantastic recipe to try:
Pecan Cranberry Chew
Yields: 3 cups
Prep and Cooking Time: 30 minutes
2 cups pecans
1/3 cup raisins
1/2 cup dried cranberries (fruit juice sweetened)
2 tablespoons xylitol (made from Birch Bark)
1-1/2 teaspoon cayenne pepper
1/4 teaspoon sea salt
1/3 cup brown rice syrup
1. Preheat oven to 350 degrees F. Cover a baking sheet with parchment paper and spray lightly with oil. Place the pecans on the parchment paper and bake for 8 minutes. Remove from oven and increase the temperature to 375 degrees.
2. In a medium bowl combine the raisins, cranberries and hot, cooked pecans.
3. In a small bowl combine the xylitol, cayenne and sea salt, and mix into the pecans/fruit. Add the rice syrup and stir to coat the mixture.
4. Spread the mixture onto the parchment paper and bake in the oven for 10-12 minutes or until pecans are done and syrup is bubbling.
5. Remove and allow to cool. (Placing the pan in the freezer for 10 minutes makes it easier to peel off the parchment paper.)
6. Store in a container in the refrigerator and try not to eat it all at one sitting.
Note on ingredients:
Birch Bark Xylitol:
I have used a birch bark xylitol rather than a corn based product. When purchasing make sure to read the labels. Xylitol is known for its ability to metabolize in the body without using insulin, benefits teeth and gums, and has shown to have other health benefits as well. You can purchase Xylitol via the internet.
Brown Rice Syrup:
A mild tasting liquid sweetener only 20 percent as sweet as sugar. It metabolizes slowly in the body, however, diabetics should use with caution. It has a soft caramel flavor, which comes from cooking brown rice and barley malt and reducing the resulting mash to a syrup. Great substitute for corn syrup and the like.

Download this recipe.
---
(If YOU have a smart idea, won't you share it? Life is so much easier and we accomplish so much more when we pool our resources. And after all, we're all in this together. So email
patty@dvo.com
or
alice@dvo.com
with YOUR Smart Ideas!)
---
Contribute to the Cook'n Club!
DVO would love to publish your article, prose, photography and art as well as your cooking, kitchen and nutrition tips, tricks and secrets. Visit the Newsletter Submission / Win Win for All section in our Forum for more information and details.
---