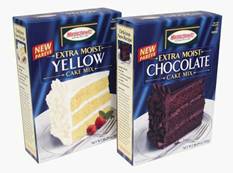 I was thumbing through a cookbook my Aunt Annie used a lot when she was alive, 101 Things to Do With a Cakemix, and am I glad I did. I'm in a hurry, I'm worn out, I'm stressed, I'm out of ideas... you get the idea. This time of year can stretch us to the max! But if we have some good resources, it doesn't need to be that way, at least not in the kitchen — not when it comes to meal time.
So back to the101 Things to Do With a Cakemix: Here's my resource! I found some really good desserts I can whip up in no time and they are FUN to make because they originate from the humble cake mix! So here's the plan: I'm buying a few when they're on sale to have on hand when I'm in a hurry, I'm worn out, I'm stressed…you get the idea! Meanwhile, here are some of the recipes this cool little book contains—maybe they'll become a resource for you as well!
APPLE DUMP CAKE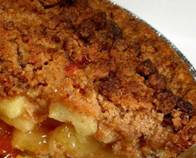 1 (21 ounce) can apple pie filling
1 (18.25 ounce) package yellow cake mix
1/2 cup butter
1/2 teaspoon ground cinnamon
1/2 teaspoon vanilla extract
Preheat oven to 350 degrees F (175 degrees C). Grease one 9×13 inch baking pan. Mix apple pie filling with ground cinnamon. Pour mixture into pan. Sprinkle yellow cake mixture over top of apple mixture. In a small saucepan melt the butter or margarine and pour evenly over the top of the cake. Bake at 350 degrees F (175 degrees C) for 45 minutes or until golden brown. Sprinkle with additional cinnamon to taste. Serve warm. Top with whipped cream or ice cream (OF COURSE!)

Download this recipe.
CAKE MIX HOMEMADE OREOS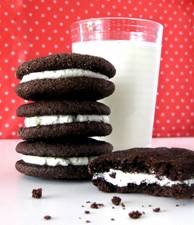 1 pkg. any flavor Pillsbury Plus Cake Mix
1/2 c. margarine or butter, softened
1 egg
Combine all ingredients at low speed until thoroughly moistened. Drop by rounded tablespoonfuls 2 inches apart onto ungreased cookie sheets. Bake at 350 for 9-12 minutes. Cool two minutes; remove from pans.
Tips: If using chocolate cake mix, add 2 Tbsp. water to ingredients
If desired, stir in 1 c. chocolate chips or 1/2 c. chopped nuts.
If desired, frost cookies with your favorite flavor of frosting.
For sandwich cookies, spread frosting between 2 cookies.

Download this recipe.
CAKE MIX COOKIE #2
(Yields 4 doz. Cookies)
About five years ago, I discovered a recipe for German Chocolate Cake Mix Cookies. I have since adapted the recipe and now make many different cookies using this basic recipe. I love the versatility and ease of this recipe!
1 box cake mix (any variety)
1 cup semi-sweet chocolate chips (can substitute caramel or peanut butter chips or do a combination)
1/ 2 -1 cup oatmeal (I always put in as much as I can!)
1 /2 cup oil
2 eggs, slightly beaten
1/ 2 cup raisins (optional)
1 tsp. vanilla (optional)
nuts (optional)
Preheat oven to 350. In a large bowl, combine all the ingredients, blending well. If the mixture is too stiff, add a little water. Drop dough by rounded teaspoonfuls 2 inches apart onto ungreased cookie sheets. Bake at 350 for 8-10 minutes or until set. Cool 1 minute before removing form the cookie sheets.
For altitudes above 3500 feet, add 1/ 4 cup flour to dry cake mix.
Variation: Use white cake mix and add a pudding mix. I added strawberry, for tasty pink cookies. If you use pudding, you will need to add some water (about 1/4 cup). Also, the pudding tends to make the cookies sweeter.

Download this recipe.
CAKE MIX BROWNIES
1 box chocolate or lemon cake mix
1 stick butter, melted
2 eggs
1/2 box 10X confectioners' sugar
1 (8 oz.) pkg. cream cheese
Mix together cake mix, melted butter and 1 egg. Press into greased sheet cake pan. Mix together 1/2 box sugar, 1 egg and cream cheese. Spread on top of cake mixture. Bake at 325 degrees for about 25 minutes. Cool in pan and cut into squares.

Download this recipe.
CAKE MIX CINNAMON ROLLS
2 pkgs. dry yeast
2 1/2 c. warm water
1 box yellow cake mix
1 tsp. vanilla
1 tsp. salt
5 c. flour
Mix yeast and water until dissolved. Add cake mix, vanilla, salt and flour. Mix well. Cover tightly. Let rise for 1 hour. Punch down and then let rise again. Roll out and make your favorite cinnamon rolls. Cover and let rise until double. Bake 15-20 minutes at 350 degrees.
CARAMEL SAUCE FOR CAKE MIX ROLLS:
2 c. brown sugar
1 c. butter
2 tbsp. light corn syrup
Walnuts, pecans or almonds
Cook brown sugar, butter and corn syrup in saucepan over medium heat until sugar dissolves. Makes enough for two 9 x 13 inch pan. Sprinkle with nuts and cinnamon.

Download this recipe.
---
Contribute to the Cook'n Club!
DVO would love to publish your article, prose, photography and art as well as your cooking, kitchen and nutrition tips, tricks and secrets. Visit the Newsletter Submission / Win Win for All section in our Forum for more information and details.
---
---