Preheat oven or toaster oven to 350 degrees F. Process 2 cups rolled oats in blender or food processor until they become flour-like. Mix "oat flour" with dry ingredients (except coconut) in a bowl. Add all wet ingredients to the dry mixture and stir until well combined. Spray a small baking dish (about 5 inches x 12 inches, or similar) with non-stick cooking spray. Add mixture to the dish, pressing it down with a spatula. Sprinkle coconut on top. With a knife, cut the whole sheet into 12 bars. Bake at 350 degrees for 15-20 minutes. Let cool, cut again, and store in an air-tight container for up to one week.

Download this recipe.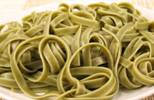 Spinach Wraps & Pasta:
Spinach wraps and pastas definitely add a decorative flair to your meal, but that's about it. The actual amount of spinach in these green tortillas and noodles is trivial compared with what you would get if you added your own spinach leaves to your wrap or pasta dish.
This super green is added more for color than for nutrition, and most often, the flour used to make the pasta or wrap isn't whole grain, either. Spruce up your spinach: Add fresh spinach leaves to your pasta dish or wrap if you want to benefit from the B vitamins, fiber, iron and calcium found in spinach. Choose whole-grain (not spinach) pastas and wraps for your meals instead.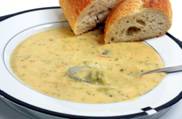 Broccoli and Cheddar Soup:
It may boast the super food "broccoli" in its name, but this creamy concoction is usually less than soup-er for you. Besides a load of full-fat cheddar cheese, what you won't see is all the melted butter and cream this soup contains.
All three of these ingredients are high in unhealthy saturated fats. And just because broccoli is in the name doesn't mean you're getting a serving of vegetables when you slurp down this soup.
Slim down your soup:
Order a cup instead of a bowl, or make it at home using healthier substitutions like evaporated skim milk and less cheese. Don't forget to add a real serving or two of vegetables to your meal; this soup alone won't help you meet your daily quota.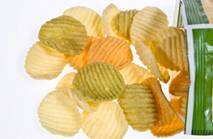 Veggie Chips:
Veggie chips seem like they would be a much smarter choice than regular potato chips, but it turns out most brands are about equal in calories, fat and nutrients to regular old chips. Consumer Reports states that the main ingredient for almost all veggie chips are potatoes, merely supplemented with vegetable powder or puree. Veggie chips only contain about 10 fewer calories per serving than your average potato chips.
Chuck the chips:
Snack on fresh, crunchy veggies for fewer calories and more nutrients than veggie chips.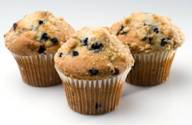 Muffins:
Muffins may look like the perfect breakfast or snack, but in most cases, they're little more than a small cake (i.e. dessert). Not only do they resemble small planets in size, but they are also loaded with calories, unhealthy fats, refined flour and added sugars.
Bran muffins can trick you into thinking they are healthful because the word "bran" is in the name, but these monsters can contain 500 calories or more and very little else in the way of nutrition! Blueberry muffins (or other fruity varieties) contain a fraction of a serving of real fruit.
Muzzle the muffin top:
Share these goodies with a friend and watch your portion sizes. If fruit is what you want, avoid it when it comes in muffin form. You can also make muffins at home (see recipes below) and use healthier ingredients to make them more nutritious.
Cranberry-Blueberry Bran Muffins
Makes 24 muffins

2 cups flour
1/3 cup unsweetened apple sauce
1/3 cup vegetable oil
3 egg whites
2 tsp baking powder
2 tsp baking soda
1 tsp salt
2 cups skim milk
2 cups natural bran
6 tbsp molasses
1 tsp vanilla
1 1/2 cups frozen blueberries
1 1/2 cups frozen cranberries
1 tsp agave nectar
Mix dry ingredients together, and set aside. Mix milk and bran and set aside letting soak for 5 minutes. Meanwhile, you can mix oil, apple sauce, molasses, vanilla, and egg whites together. Pour this into milk/bran mixture and stir. Add the berries, and stir. Add wet ingredients to dry ingredients and mix only to moisten. Cook for aprox. 20 mins. at 350.

Download this recipe.
Cranberry-Orange Muffins
Makes 14 to 16 muffins

2/3 cup unsweetened dried cranberries
1/2 cup hot water
1 tablespoon agave nectar
1 cup whole wheat flour
1 cup unbleached white flour
1 tablespoon ground flax seeds
3/4 cup sugar
1/2 tablespoon egg replacer powder
1 teaspoon baking powder
1 teaspoon baking soda
1/2 teaspoon salt
1/2 cup orange juice
1/2 cup soy milk
1/3 cup unsweetened apple sauce
1 teaspoon vanilla
1 teaspoon grated orange zest
Put the cranberries in a bowl and pour the hot water and agave nectar over them. Stir and set aside for at least 15 minutes to allow the cranberries to plump up.¨Preheat the oven to 400ºF. Spray the muffin pan with non-stick spray or use a silicone pan or muffin liners. In a large bowl, stir together the dry ingredients: flours, flax seeds, sugar, egg replacer, baking powder, baking soda, and salt.
In another bowl, stir together orange juice, soymilk, apple sauce, vanilla, and orange zest. Strain the liquid from the cranberries into the liquid ingredients. Make a well in the center of the dry ingredients and add liquid. Stir just to until all flour is moistened; don't over-stir. Stir in cranberries. Spoon batter into prepared muffin cups. Bake for 12 to 16 minutes or until a toothpick inserted in the center of one muffin comes out with a few crumbs attached. Remove muffin pan to a wire rack. Cool for 5 to 10 minutes before carefully removing muffins from cups.

Download this recipe.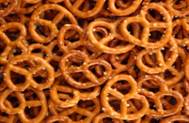 Pretzels: Pretzels, although a better choice than greasy potato chips, provide little more than calories. Yes, you can buy them fat free, but they're also free of any significant amount of vitamins, minerals, fiber or protein. Even pretzels labeled "honey wheat" struggle to pack 1 gram of fiber into 8 twists.
If you're crunching on salted pretzels, you could be adding an extra 815 mg of sodium to your diet with each serving.
Power up your pretzels:
Choose whole-wheat pretzels for more fiber and filling power or pair your twists with some healthy protein (like cheese or peanut butter) to avoid spikes in blood sugar that could leave you feeling hungry and lethargic.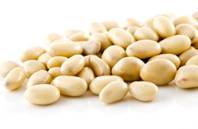 Yogurt-Covered Raisins: Wholesome yogurt + fruity raisins = yogurt-covered raisins. These must be healthy, right? Wrong. While both raisins and yogurt are nutritious foods, this packaged snack is anything but. The "yogurt" on the outside is far from the yogurt you know from the dairy aisle.
Mostly sugar, oil and some dry milk and yogurt powder, that "yogurt" coating is often a source of hydrogenated oil (trans fats), which you'd never find in real yogurt. A single serving (1/4 cup) also contains about 130 calories.
Skirt this yogurt:
Get more nutrition for your calories by choosing real yogurt, with or without added fruit. You'll save fat and calories and avoid the sugar rush of this snack.
---
Contribute to the Cook'n Club!
DVO would love to publish your article, prose, photography and art as well as your cooking, kitchen and nutrition tips, tricks and secrets. Visit the Newsletter Submission / Win Win for All section in our Forum for more information and details.
---
---