NOTHING compares to the taste of fresh herbs — they simply transform any recipe. So that said, here are a couple wonderful recipes that will work wonderfully well with those fresh herbs you're growing (or those from the store…).
Easy Focaccia Bread
(8 wedges per loaf)
Although this excellent, traditional Italian bread is yeasted, it does not take as long as other yeasted breads, since it requires only one simple rising. If you are in the kitchen making a nice simmering soup, this bread will fit right into the time frame. It's adapted from Vegan Soups and Hearty Soups for All Seasons (Broadway Books, 2009, by Nava Atlas.)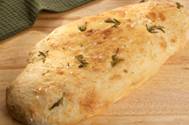 1 package active dry yeast
1 cup warm water
1 tablespoon natural granulated sugar
1/4 cup extra virgin olive oil
1 1/2 cups whole wheat flour
1 cup unbleached white flour
1 teaspoon salt
1 tablespoon minced fresh garlic
Coarse salt
Dried rosemary or oregano
Pour the yeast into warm water and let stand to dissolve for 5 to 10 minutes. Stir in the sugar and 2 tablespoons of the oil. Combine the flours and salt in a large mixing bowl. Work the yeast mixture in using your hands, then turn out onto a well-floured board. Knead for 5 minutes, adding additional flour if the dough gets too sticky. Shape into a round and roll out into a circle with a 12-inch diameter.
Place on an oiled and floured baking sheet, cover with a tea towel, and let rise in a warm place for 30 to 40 minutes. Preheat oven to 400F°.
When the dough has risen, poke shallow holes into the surface with your fingers, at even intervals. Sprinkle the remaining 2 tablespoons of olive oil over the top evenly, followed by the garlic, salt and herb. Bake for 20 to 25 minutes, or until the bread is golden on top and sounds hollow when tapped.
Nutrition per wedge: Calories: 206.; Total fat: 7 g.; Protein: 5 g.; Fiber: 3 g.; Carbs: 31 g.; Cholesterol: 0 mg.; Sodium: 294 mg.

Download this recipe.
Herb Butter

4 tbsp. salt-free butter
1 tbsp. fresh herbs, chopped or 1/2 tbsp. dried herbs
Cream butter and herbs together. Store in small container. Cover and refrigerate. Will keep up to three months. Use with vegetables or a sandwich spread. Good herbs to use: Parsley, sage, or a combination of parsley, chives, basil, thyme and tarragon.
---
Contribute to the Cook'n Club!
DVO would love to publish your article, prose, photography and art as well as your cooking, kitchen and nutrition tips, tricks and secrets. Visit the Newsletter Submission / Win Win for All section in our Forum for more information and details.
---
---