Let's talk snacking. The good news — or the bad news, depending on what you're snacking on — is that "bad" low-density lipoprotein (LDL) cholesterol is sensitive to diet, though less sensitive than triglycerides and good high-density lipoprotein (HDL) cholesterol.
Fortunately, the same foods that can help lower LDL may also improve HDL and triglycerides. So instead of snacking on chips and doughnuts, consider these healthier options:

Nuts and seeds.
Sunflower seeds, pistachios, pumpkin seeds, sesame seeds, pine nuts, flaxseeds, and almonds are particularly high in plant sterols, which can help reduce LDL. But it's easy to overdo it on nuts and seeds (and they are calorie dense), so I suggest limiting your total intake to about one ounce, or ¼ cup, a day if you are also trying to lose weight.

Apples.
Research shows that eating two apples a day can slow down the oxidation of LDL cholesterol and help prevent plaque buildup. The protective antioxidants are in the apples' skin, so don't peel them.

Oat bran.
An important source of water-soluble fiber, oats have long been recognized as a potential cholesterol-lowering dietary component. The soluble fiber in oat bran binds with bile acids in the intestine to block the absorption of cholesterol by the body.
According to a study conducted at the Jean Mayer USDA Human Nutrition Research Center on Aging in Boston, antioxidant compounds found in oat bran called avenanthramides can also prevent white blood cells from sticking to the artery walls, which is an important step in preventing plaque formation. So why not have a bowl of unsweetened oat cereal as a midmorning or mid-afternoon snack? Not only is it filling, it's good for your heart.

Grapefruit.
Studies show that the phytochemicals called liminoids in pink and red grapefruit make them powerful LDL busters. But this snack is not for everyone. Because grapefruit can interfere with the breakdown of certain medications, including statins and calcium channel blockers, don't eat a lot of grapefruit or drink the juice as a snack if you're on these medications.
To provide good snacking ammunition, here are a few healthy snacking recipes:
Anytime Apple & Carrot Muffins
Serves 25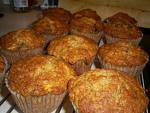 3 cups all-purpose flour
1 cup whole wheat flour
2 cups sugar
2 teaspoons baking soda
2 teaspoons baking powder
1 teaspoon salt
1 teaspoon cinnamon
1/4 teaspoon nutmeg
2/3 cup plain non-fat yogurt
1/2 cup orange juice
1/2 cup maple syrup
6 egg whites or 1 cup non fat egg substitute
1/4 cup canola oil
1 1/2 tablespoons vanilla extract
2 teaspoons dried orange peel
1 quart/1 lb grated carrots
1 quart/1 lb shredded apples
In mixing bowl, blend flours, sugar, baking soda, baking powder, salt, cinnamon and nutmeg. In separate bowl, blend yogurt orange juice, maple syrup, egg whites, oil, vanilla, orange peel, carrots and apples. Stir apple mixture into dry ingredients just until moistened; do not over-mix. Portion 1/3 cup into paper-lined or non-stick muffin tins. Bake in preheated 375 F oven for 22 to 25 minutes, until tops spring back when lightly touched.

Download this recipe.
Apple Raisin Oat Bran Muffins
Serves 12

1 egg white, beaten OR 1/4 c. egg beaters
3/4 c. skim milk
1 c. whole wheat flour
1 c. oat bran
1/3 c. sugar
1/3 to 1/2 c. oil
1 apple, peeled, cored & chopped
1 c. raisins
1 tbsp. baking powder
1 tbsp. cinnamon
1 tsp. nutmeg
Mix all ingredients together, beginning with egg and milk. Fill greased (Pam) muffin pan to just below the top of cups. Bake for 15 to 18 minutes in a 400 degree oven. This recipe can be doubled easily

Download this recipe.
Fennel & Grapefruit Salad
Serves 2

2 large fennel bulbs
2 ruby red grapefruit
3 bunches fresh arugula
1/2 cup black olives, pitted
1/2 cup Newman's Own® Lighten Up® Balsamic Vinaigrette Dressing
Cracked black pepper to taste
Ground sea salt to taste
Trim and halve the fennel bulbs. Cut them paper thin with a sharp knife or mandolin. Peel and section the grapefruit so that only the fleshy fruit remains. Stem, wash and dry the arugula leaves. In a large bowl place the arugula and dressing. Toss until coated and then add the fennel, grapefruit and olives. Pepper and salt and toss again

Download this recipe.
Fruit Crunchy Salad
Serves 4

2 1/2 cups strawberry yogurt
1/4 cup honey
1/2 teaspoon ground cinnamon
4 ounces chopped almonds
1/2 cup chopped cashews
1/3 cup raisins
1/4 cup candy-coated milk chocolate pieces
2 large oranges - peeled, sectioned, and cut into bite-size pieces
3 bananas, peeled and sliced
2 cups chopped pears
2 cups chopped grapefruit
In a large bowl, mix together the yogurt, honey, cinnamon, almonds, cashews, raisins, candy pieces, oranges, bananas, pears and grapefruit. Cover and chill until ready to serve. Sprinkle with nutmeg and cloves before serving, if desired.

Download this recipe.
---
Contribute to the Cook'n Club!
DVO would love to publish your article, prose, photography and art as well as your cooking, kitchen and nutrition tips, tricks and secrets. Visit the Newsletter Submission / Win Win for All section in our Forum for more information and details.
---
---