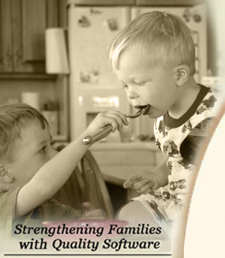 Cook'n Club Home
Subscribe Now!

Cook'n Forum
HomeCook'n Archive
Give-Aways

I have spent the last 2 hours reading your newsletter and wonderful recipes. I have already printed a whole bunch I want to try. I love them because they are using ingredients one has on hand. I love that and just wanted you to know how much we appreciate all your hard work in putting together this newsletter. Thank you very much.

Anna

Volume I - May 15, 2009
SMART Ideas!
Vanilla Takes Center Stage
by Alice Osborne & Patty Liston


Have you tasted the
Mexican vanilla
that Dan and Kathy sell? Oh my goodness, it's the BEST we've ever tasted and can't thank Cook'n enough for making this available—our baked goods and sauces have improved 100%! Considering how good this product tastes, we wondered whether vanilla carries any other benefits. Here's what we found:
Vanillin has anti-oxidant properties. It is classed as a vanilloid along with capsaicin contained in chili peppers and eugenol contained in cloves—both of which have numerous medicinal properties and health benefits. Some nutritionists have conjectured that vanilla might be a mild help in preventing cancer. And here are a few things you can do with vanilla:
A few drops of vanilla in a can of paint will help eliminate unpleasant odors!


A vanilla bean under your car seat gives a fresh aroma and helps eliminate musty odors.


A teaspoon or so of vanilla in Italian tomato sauces or Mexican chili helps cut the acidity of the tomatoes!


In baking, cream the vanilla with the shortening or butter portion of the ingredients. The fat encapsulates the vanilla, preventing it from volatilizing in the baking process.


Vanilla extract is used by veteran fishermen to mask the smell of their hands so the fish won't detect them. It's said to have the same helpful effect after handling garlic and onions.

So considering the varied uses of this top-quality vanilla, we think it's just a SMART IDEA to buy the best! Now for a few vanilla-centered recipes:

Seared Scallops with Vanilla Sauce
Serves 2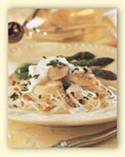 ½ pound sea scallops
½ cup butter
1 cup cream
2 tablespoons onion, minced
1 clove of garlic, minced
½ teaspoon pure vanilla extract
½ pound angel hair pasta, cooked
Chopped parsley for garnish

Melt butter in a 12-inch frying pan. Add scallops and cook until just done, about one minute per side. Remove from pan and keep warm. Add onion and garlic to the pan and sauté 2 minutes. Add cream and vanilla. Cook and stir over medium heat until slightly thickened. Add scallops back to the pan and stir. Serve over pasta. Sprinkle with fresh parsley. Serves 2.



Download this recipe.
Vanilla Salad Dressing
1 or 2 servings

2 T. pure vanilla extract
½ cup corn oil
Salt, pepper to taste
1 T. chopped chives
Mix ingredients together in order. Pour over tossed salad.

Download this recipe.
Smoothies
Serves 2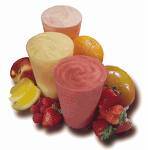 1/ 2 cup sliced fruit (strawberries, blueberries, peaches, etc.)
3/4 cup orange juice
1 4-oz. container plain yogurt
1 medium banana peeled, sliced
2 tsp. pure vanilla extract
In a blender combine all ingredients. Process on puree until smooth.

Download this recipe.
---
(If YOU have a smart idea, won't you share it? Life is so much easier and we accomplish so much more when we pool our resources. And after all, we're all in this together. So email
patty@dvo.com
or
alice@dvo.com
with YOUR Smart Ideas!)
---
Contribute to the Cook'n Club!
DVO would love to publish your article, prose, photography and art as well as your cooking, kitchen and nutrition tips, tricks and secrets. Visit the Newsletter Submission / Win Win for All section in our Forum for more information and details.
---