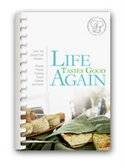 As we mentioned last week, we are so excited about our latest Cook'n release, Life Tastes Good Again, but Kirsti Kirkland and Betsy Thomas. Those of us struggling with celiac issues are going to put Dan and Kathy in our wills for this one!
We thought we'd give you another sneak peak at what's to come, this time regarding gluten-free flours and baking supplies:
"When most people start using gluten free recipes, they have neither used nor even heard of the different flours and ingredients most gluten-free recipes call for. Here's what you need to know:

Egg replacer:
A powdered substitute for eggs that contains no egg products. It's also dairy-, corn-, soy-, as well as gluten-free. It's included for the extra leavening it produces. Ener-G is a good brand.

Guar Gum:
A gluten replacer preferred if you are sensitive to xanthan gum. Replace it straight across for xanthan gum, teaspoon for teaspoon.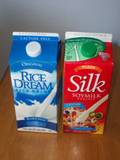 Non-Dairy Milk:
Lots of people who are gluten intolerant also have dairy intolerances. Most of the recipes in Life Tastes Good Again can be made dairy free without complications. But if milk IS called for, you can use rice milk, soy milk, or any other non-dairy milk that is listed as gluten-free. [Their book lists non-dairy substitution equivalents.]

Oats:
Most of the problem with oats (for those with Celiac) is cross contamination. Recently, some companies have started providing oats that aren't cross contaminated by wheat. If you want to try oats in your diet, be sure to buy them from a gluten-free source—health food stores are now carrying them.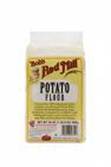 Potato Flour:
This flour is made by grinding dehydrated potatoes, and is much heavier than Potato Starch Flour. It should be stored in the refrigerator. [This flour is used to make the authors' baking mix, Featherlight.]

Potato Starch or Potato Starch Flour:
This is made by rinsing the starch out of ground fresh potatoes. These names are used interchangeably. Be careful, though, NOT to confuse it with Potato Flour—there's a big difference and they CANNOT be switched in recipes. Potato Starch keeps well and can be bought in bulk.

Quinoa:
This is a tiny seed no bigger than a mustard seed. It can be milled into flour or rolled into oat-like flakes. It's a great source of protein, calcium, and iron.

Rice Flour:
This flour is made by grinding either white or brown rice. You'll use a lot of it, so either purchase it in bulk or grind your own. Brown rice flour has a higher nutritional value but goes bad faster and keeps best when refrigerated. White rice flour can be stored at room temperature.
Tapioca Flour:
Also called Tapioca Starch or Tapioca Starch Flour. It looks and feels much like dry cornstarch. It keeps for a long time at room temperature. This is another flour you'll use a lot of.

Teff:
This flour is ground from a grain in the grass family. Its closest relatives are corn, rice, and sorghum. You won't need a lot of it—it's used especially in the authors' Hearty Brown Bread recipe.

Xanthan Gum:
This is used to replace the gluten in baked goods. It is what helps hold gluten free baked goods together. If omitted, the recipe turns out very crumbly! It's probably the most expensive ingredient needed, but you only use a teaspoon or so per recipe, so a small bag will last a long time.
---
Contribute to the Cook'n Club!
DVO would love to publish your article, prose, photography and art as well as your cooking, kitchen and nutrition tips, tricks and secrets. Visit the Newsletter Submission / Win Win for All section in our Forum for more information and details.
---
---