Fill the bottom of the steamer with 2 inches of water. While steam is building up in steamer, peel and cut butternut squash into 1-inch cubes. Steam covered for 7 minutes. Squash is done when it is tender, yet still firm enough to hold its shape. Transfer to a bowl. For more flavor toss squash with the oil, lemon juice, salt and pepper while it is still hot. Research shows that carotenoids in foods are best absorbed when consumed with oils.

Download this recipe.
15-Minute Shrimp & Avocado Salad
Serves 4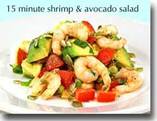 1 lb cooked medium sized shrimp (buy still frozen if possible for freshness)remove tails
1 medium sized tomato, seeded and chopped
3 scallion chopped
1 large clove garlic, pressed
2 TBS fresh lemon juice
1 TBS balsamic vinegar
1 large firm avocado cut into 1/2 inch cubes
1 TBS chopped cilantro
1 TBS chopped fresh mint
2 TBS chopped pumpkin seeds
salt & pepper to taste
pinch red pepper flakes
extra virgin olive oil to taste
1 head small romaine lettuce, outer leaves removed
Make sure shrimp is completely unfrozen, if you buy it already cooked, and patted dry with paper towels. Assemble all ingredients with shrimp in a bowl except lettuce and mix. For optimum flavor, marinate in refrigerator for 15 minutes or more. It is still very good served right away if you don't have the time. Serve on bed of chopped romaine lettuce.
Healthy Cooking Tips:
Buying shrimp that is still frozen will ensure that it will be as fresh as possible. Because all shrimp comes frozen in stores once they have thawed they lose their freshness very quickly. This recipe was created to be very quick and easy, so cooked shrimp is already added to the ingredient list. If you have the time, obviously it would have better flavor if the shrimp was raw and you cooked it yourself. It is very important either way to make sure the shrimp is patted dry. Otherwise it will dilute the flavor of your salad. Also, it is important that your avocado is ripe, yet still somewhat firm. If it is mushy, your salad will have an unattractive appearance.

Download this recipe.
15-Minute Stir Fried Chicken & Bok Choy
Serves 4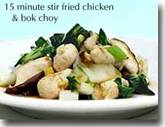 2 TBS low-sodium chicken or vegetable broth
1 cup chopped scallion
2 TBS fresh minced ginger
2 skinless, boneless chicken breasts cut into bite size pieces
1½ cups sliced fresh shiitake mushrooms
4 cups chopped bok choy
2 TBS soy sauce
1 TBS rice vinegar
salt and white pepper to taste
pinch of red pepper flakes
Heat broth in a stainless steel wok or skillet. When broth begins to steam add scallions and Healthy Stir Fry for 2 minutes. Add ginger and continue to stir-fry for another minute. Add chicken and continue to stir. After about 2-3 minutes add shiitake mushrooms and bok choy. Continue to stir fry for another 3-4 minutes and add soy sauce, rice vinegar, salt and pepper.

Download this recipe.
Information Courtesy The World's Healthiest Foods
---
Contribute to the Cook'n Club!
DVO would love to publish your article, prose, photography and art as well as your cooking, kitchen and nutrition tips, tricks and secrets. Visit the Newsletter Submission / Win Win for All section in our Forum for more information and details.
---
---