You know how to protect your eyes from the outside in: Wear shades to shield against UV rays, and cover your eyes whenever you see oncoming projectiles, be they bugs or baseballs. But when we read that more and more people today are dealing with eye issues that can be staved off by proper diet, we thought we should share how to protect your eyes from the
inside out
:
Get plenty of lutein, vitamin C, and glutathione.

Lutein:
You can take it in supplement form at 6 to 30 milligrams daily. Or find it in corn and green leafy vegetables.


Vitamin C:
People who eat plenty of fruit and vegetables (which contain vitamin C and other bioflavonoids) are less likely to develop eye conditions.


Glutathione:
A daily 500-milligram supplement may help you avoid cataracts. Or find glutathione in eggs, garlic, avocados, asparagus, and onions.
A Clear-View Cocktail
The docs recommend this combo if you already have age-related macular degeneration: 500 milligrams of vitamin C, 400 international units of vitamin E, 15 milligrams of beta carotene, 30 milligrams of zinc, and 2 milligrams of copper -- every day, in divided doses.
With a good juicer, it's easy to create a fruit-veggie smoothie that addresses the needs of the eyes, as well as promotes overall good health:
Green Drink Supreme
Yield: 1 quart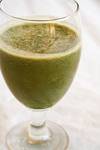 Small bunch baby spinach leaves
1 leaf kale
1 leaf red chard
1 leaf collard
1 C frozen blueberries
1 banana, peeled, cut in 4 pieces
1 C frozen raspberries
1 orange, peeled and quartered
1 apple, cored and quartered
¾ C frozen apple juice concentrate
1 C nonfat plain yogurt
2-3 C water
Rinse leafy greens well, pat dry. Add all ingredients to juicer (Alice uses the Vitamix). Blend on high until everything is mixed well. This makes a thick gray-green smoothie that Alice's husband calls "sludge." While his observation doesn't exactly recommend the drink, ignore it. This drink tastes yummy no matter how it looks, and boy does it boost the immune system and treat the body well! Try this and let us know what you think.

Download this recipe.
Information Courtesy
RealAge
.
---
Contribute to the Cook'n Club!
DVO would love to publish your article, prose, photography and art as well as your cooking, kitchen and nutrition tips, tricks and secrets. Visit the Newsletter Submission / Win Win for All section in our Forum for more information and details.
---