Christmas morning is usually filled with floating wisps of wrapping paper and lost instructions to complicated electronic gifts. So breakfast should be easy! These menus are mostly comprised of make-ahead foods so all you have to do is bake, cook, or serve.
Think about setting up a buffet with all of these foods, keeping everything nice and toasty on warming plates (and in crockpots, of course!). If there are kids in your household, use sturdy (and I mean sturdy) paper plates and lots of napkins. Then everybody can browse and eat what they want, when they want. And present opening can continue!
Make sure you have lots of orange juice available, along with milk and hot cocoa for the kids. Keep some bottled and flavored water in a tub with some ice for thirsty present-openers, as well.
Make-Ahead Eggs and Muffins
This gorgeous little recipe is perfect for Christmas or New Year's morning, because all you have to do when you want to eat is assemble and bake. Make the eggs are directed and chill, then just stir in the salt and pepper and sprinkle with Swiss cheese; bake the eggs at 350 degrees F for 30-35 minutes until a thermometer registers 140 degrees F.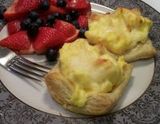 1 sheet frozen puff pastry, thawed
3 tablespoons butter, divided
2 tablespoons grated Parmesan cheese
10 eggs
1/4 cup heavy cream
3/4 cup bottled Alfredo sauce
1/2 teaspoon salt
1/8 teaspoon pepper
1 cup shredded Swiss or Colby cheese
Toppings:
Crisply cooked crumbled bacon
Caviar
Salsa
Chopped chives
Chopped green onion
Preheat oven to 400 degrees F. Unfold the puff pastry sheet and place on work surface. Cut into 9 equal squares using a sharp knife. Turn muffin cups upside down and drape the squares over alternate cups (to give the pastry room to expand). Gently press the dough to form around the cups.
Bake for 4-6 minutes or until pastry is set and very light golden brown. Let cool for 3 minutes, then invert into wire rack to cool completely. Cover and let stand at room temperature.
Using 1 tablespoon butter, grease a 1-1/2 quart baking dish; sprinkle with Parmesan cheese and set aside. In large bowl, combine eggs with heavy cream; beat until frothy.
Melt remaining 2 tablespoons butter in large saucepan over medium heat. Add eggs to hot butter; cook and stir until eggs are set but still moist. Remove from heat and fold in Alfredo sauce; do not combine completely. Place in prepared baking dish. Cover and refrigerate for up to 48 hours.
When ready to eat, preheat oven to 350 degrees F. Place the pastry cups on a cookie sheet. Sprinkle egg mixture with salt and pepper and fold in gently. Spoon egg mixture into pastry cups and sprinkle with Swiss cheese. Bake for 22-27 minutes or until eggs are hot in the center (140 degrees F on instant-read thermometer), and pastry is deep golden brown on bottom and edges. Offer a selection of toppings and let each diner choose for herself. Serves 6-8.

Download this recipe.
Swedish Christmas Tea Log
We adore this recipe. This rich yeast coffee cake filled with brown sugar and nuts is traditional at every family gathering. I increased the amount of filling and frosting from the original recipe to make the coffeecakes even richer. I also doubled the recipe, otherwise there just isn't enough to go around! It's a long recipe, but you really should try it at least once in your lifetime.

2 pkg. active dry yeast
1/2 cup warm milk
4-1/2 cups flour
1/4 cup sugar
1 tsp. salt
1 cup butter
1/2 cup heavy cream
2 eggs
1/2 cup dried currants
1/2 cup butter, softened
1 cup brown sugar
1 cup chopped pecans
1/2 cup butter
3 cups powdered sugar
1 tsp. vanilla
4-6 Tbsp. heavy cream
Dissolve yeast in warm milk and let sit for 5 minutes until bubbly. Meanwhile, put flour, 1/4 cup sugar and salt into a large mixing bowl and cut in 1 cup butter until particles are fine. Add 1/2 cup cream, eggs, softened yeast and currants and mix well. Cover and chill at least 2 hours.
For filling, cream 1/2 cup butter and brown sugar until smooth. Stir in pecans and set aside.
Divide dough into 6 parts. Roll out each part on floured surface to a 12x6" rectangle and spread each with 1/6 of the pecan filling. Roll up, starting with 12" side, pinching dough to seal. Place in a crescent shape on foil-lined or parchment-lined cookie sheets, seam side down. Make cuts along outside edge of crescent, 1" apart, to within 1/2" of other side. Turn cut pieces on their sides, twisting the dough slightly. Repeat with remaining dough to make six coffee cakes. I put three coffee cakes on 1 cookie sheet.
Let rise in warm place until light, about 45 minutes. You can also, at this point, refrigerate the coffee cakes, covered, overnight. Then bake as directed in the morning, adding 5-10 minutes to baking time. Bake at 350 degrees for 20-25 minutes until golden brown. Carefully remove from cookie sheets to wire racks using 2 spatulas and frost while warm.
For frosting, heat 1/2 cup butter in heavy saucepan. Watching carefully, cook butter until it just begins to turn light brown. It burns very easily, so don't leave the stove during this step! Beat in powdered sugar, vanilla, and enough cream for desired spreading consistency. Frost coffeecakes.
Makes 6 coffeecakes, technically serving 36, but actually serving 4 if you let people eat all they want to!

Download this recipe.
Freezer French Toast
Cut this crisp French Toast recipe into small triangles and serve it with little cups of maple syrup, powdered sugar, or jam for dipping. Yum.The cornflake crumbs give this wonderful make ahead breakfast recipe a fabulous crunch. This recipe is perfect for busy school mornings.

3 eggs
1 cup light cream
3 Tbsp. sugar
1 tsp. vanilla
1 cup cornflake cereal crumbs
8 (1" thick) slices french bread
Mix eggs, half and half, sugar and vanilla in a shallow bowl. Dip the french bread in this egg mixture, leaving the bread in the bowl for a few minutes so it absorbs more egg mixture. Dip bread in the cornflake crumbs to coat. Place on a cookie sheet lined with parchment paper. Freeze until firm.
When ready to bake, first preheat the oven to 425 degrees. Place frozen french toast pieces on a greased cookie sheet for 15 to 20 minutes or until golden brown and crunchy. Turn the toast once during baking. Serve with maple syrup, jam, and powdered sugar. 8 slices

Download this recipe.
Information Courtesy Linda Larsen of About.com
---
Contribute to the Cook'n Club!
DVO would love to publish your article, prose, photography and art as well as your cooking, kitchen and nutrition tips, tricks and secrets. Visit the Newsletter Submission / Win Win for All section in our Forum for more information and details.
---