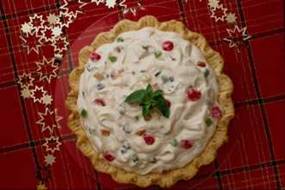 We've had tremendous response to our Nesselrode Pie recipe from the FOOD FUN column of a few weeks ago — most readers wanting to know where on earth do they find a 10 oz jar of Nesselrode ice cream topping. We cannot tell a lie: We have NO idea. This was a recipe we found that sounded so incredibly good, we submitted it before trying it out — hence the stupor on where to find the topping. But, see the first sentence of the last paragraph for an idea on how to make your own version. Our guess is that you don't really need it — let's proceed without it and improvise a topping. When you come up with something great — send the information to us and we'll post your suggestion. Meanwhile, here's a little more on how this pie came to be:
Nesselrode
. The word looks odd today, but not long ago it was a name to conjure with. Nesselrode fans were as passionate as flourless chocolate cake devotees today.

The basic idea was invented some time before 1840 by a French chef named Mouy, who worked for the famous Count Karl Nesselrode, a German aristocrat serving in the Russian diplomatic corps. It involved cream, chestnut puree and dried fruits such as raisins, currants, dried cherries and candied citron peel. This could be thickened with gelatin or frozen into ice cream (both techniques were expensive, making it a pretty fancy dessert). The result was known as Nesselrode cream, pudding or ice.

Hmm. Chestnuts, raisins and citrons–well, we have to remember that they were hot stuff back before modern transport allowed us to insist on fresh fruit all year round. Our ancestors were amazingly enthusiastic about fruitcake for the same reason. As for the dried cherries, they might have been maraschinos, though not originally candied ones.

In this country, pineapple tended to become an ingredient. Fanny Farmer's 1897 recipe was pineapple-chestnut ice cream (molded around candied fruit and raisins) served with maraschino syrup.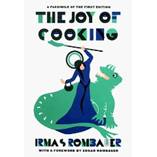 But the original 1931 edition of "The Joy of Cooking" gave an odd recipe of whipped cream thickened with gelatin and flavored with raisins, almonds and crumbled macaroons. It was retained in every edition of "The Joy" until the current one, which dropped it.
In other cookbooks, the combination of chestnuts, raisins and sometimes maraschino cherries and pineapple survived through the '60s as a topping for ice cream, but few cookbooks even mention Nesselrode anymore. And certainly not any of the other dishes of the family: sweetbreads Nesselrode, venison steaks Nesselrode and consomme Nesselrode, all flavored with chestnuts.