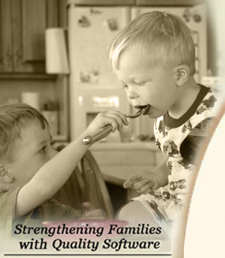 Cook'n Club Home
Subscribe Now!

Cook'n Forum
HomeCook'n Archive
Give-Aways

I have spent the last 2 hours reading your newsletter and wonderful recipes. I have already printed a whole bunch I want to try. I love them because they are using ingredients one has on hand. I love that and just wanted you to know how much we appreciate all your hard work in putting together this newsletter. Thank you very much.

Anna

Volume I - October 31, 2008, 2008
Chicken and Dumplings

Serves: 4

Download this recipe.

1 1/2 cups milk
1 cup frozen peas and carrots
1 cup cut-up cooked chicken
1 (10 3/4-ounce) can condensed cream of chicken soup and mushroom soup
1 cup Original BisquickÆ
1/3 cup milk
Paprika, if desired


1. Heat 1 1/2 cups milk, the peas and carrots, chicken and soup to boiling in 3-quart saucepan.

2. Stir Bisquick and 1/3 cup milk until soft dough forms. Drop dough by 8 spoonfuls onto chicken mixture; reduce heat to low.

3. Cook uncovered 10 minutes. Cover and cook 10 minutes longer. Sprinkle with paprika.


Light and tender dumplings are a welcome addition to many soups, stews and chilies. Plus they're as easy to make as 1-2-3:

1. Stir it up. Stir the ingredients with a spoon just until a soft dough forms. Be careful not to mix the dough too much or the dumplings will turn out tough and heavy.

2. Hot, hot, hot! Be sure the liquid is hot before you add the dumpling dough. You can tell if the temperature is hot enough when the liquid is gently boiling with bubbles breaking on the surface. If you add the dough before the liquid is hot enough, the dumplings will end up soggy and undercooked.

3. Drop 'em on top. Drop the dough by spoonfuls onto the meat or vegetables in the stew, not into the gravy or liquid. If the dough is dropped right into the liquid, the simmering action may break up the dumplings. Also, the dough will soak up moisture from the liquid so the dumplings will become soft and soggy.

Why are my dumplings tough, heavy and raw in the center?
o Too much Bisquick or not enough liquid.
o Dough overmixed.
o Dumplings too large.
o Dough added to stew too soon.
o Dumplings not cooked properly (stew should continue to boil gently).

Why are my dumplings soggy and why did they fall apart?
o Not enough Bisquick or too much liquid
o Dough dropped directly onto the hot liquid.


From "Betty Crocker's Bisquick Cookbook." Text Copyright 2000 General Mills, Inc. Used with permission of the publisher, Wiley Publishing, Inc. All Rights Reserved.

---
Contribute to the Cook'n Club!
DVO would love to publish your article, prose, photography and art as well as your cooking, kitchen and nutrition tips, tricks and secrets. Visit the Newsletter Submission / Win Win for All section in our Forum for more information and details.
---
---