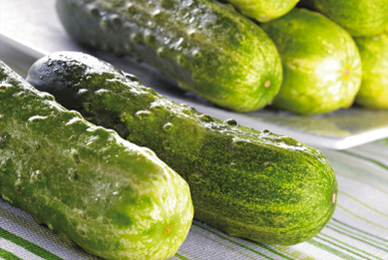 It's definitely that time of year, when the piles of irresistible produce purchased from the greenmarket start piling up on the counter and in the crisper. I, for one, get greedy remembering the barren winter and just want to, and often do, buy more than we can eat. If you fall into the same boat, get pickling!
This recipe for quick crock pickles from Serving Up the Harvest (Storey, 2007) by Andrea Chesman, isn't quick in terms of brining time (two days to six weeks) but the preparation time is speedy indeed. If you don't have cucumbers, get creative–other vegetables such as cauliflower, carrots, or zucchini will make just as wonderful pickles! After they have pickled, the vegetables can be stored for up to three months in the refrigerator, bringing a few flashes of summer greediness into the approaching cool weather.
Quick Crock Pickles
8 cups water
1 cup distilled white vinegar
1/4 cup pickling salt
6 pounds pickling cucumbers
6 small bunches dill
8 garlic cloves, peeled
1. Combine the water with vinegar and salt in a sterilized 1-gallon or larger container. Mix well, until the slat has dissolved.
2. Slice 1/16 inch off the blossom end of each cucumber. Add the dill, garlic, and cucumbers, in order, to the brine solution. Make sure the cucumbers are fully submerged in the brine.
3. Cover the container with a zippered bag filled with water to exclude the air. Set the jar where the temperature will remain about 68F degree.
4. Check the jar daily, and remove any scum that forms on the surface. (If the air is completely excluded, the scum will not form.)
5. The pickles will be ready in two to three days, although full flavor will not be reached for another four to six weeks. If your kitchen is reasonably cool, you can leave these pickles out for up to two weeks. If the brine starts to become cloudy, refrigerate immediately to prevent spoiling. The flavor of the dill and garlic will continue to develop.
The pickles will keep for up to three months in the refrigerator.
---
Contribute to the Cook'n Club!
DVO would love to publish your article, prose, photography and art as well as your cooking, kitchen and nutrition tips, tricks and secrets. Visit the Newsletter Submission / Win Win for All section in our Forum for more information and details.
---
---