Clove and Olive Oil Hair Conditioner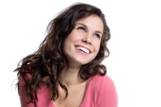 Alice and I scour the networks to find good recipes and helpful tips not only for our wonderful DVO readers, but for us as well. Below is a great "recipe" for healthy hair—using ingredients found in your kitchen cupboard. While this one talks about olive oil and cloves, you can also try coconut oil to treat damaged and dry hair—or skin. Just put some coconut oil in the palm of your hand, rub into wet hair and scalp, and wrap your hair in a towel for 20 minutes. Then shampoo as usual. We guarantee it works wonders!
Olive oil is a fantastic kitchen cupboard
ingredient for homemade beauty formulas
. We know about the great health benefits of ingesting olive oil, and as it turns out the polyphenols and hydroxytyrosol, olive oil's amazing antioxidants, seem to work topically as well.
Hydroxytyrosol prevents oxidation of keratin, which is the protein essential to healthy, luscious skin, strong nails, and supple hair.
You can make an easy olive oil conditioner by simple using olive oil on your hair prior to shampooing. If you have auburn or brunette hair, you can add cloves for a color-conditioning as well as a boost of warming fragrance.
Here's how:
Warm 1/2 cup olive oil in a small pan, and add 2 tablespoons ground cloves. Heat until hot but not boiling, and remove from heat. Let sit for at least 3 hours, or overnight, and then strain into a small jar or bottle.
When ready to shower, rub some clove-olive oil between your hands to warm it up, and then rub into your scalp and comb through to the the ends of your hair. Wrap in a shower cap and leave on for 20 minutes. In the shower, rinse oil out (and rub into your skin as you rinse!) and be careful not to slip on the oily floor. Shampoo as usual. You may need to shampoo twice.
(From Melissa Breyer,
Care 2 Website
)