Grands!® Fruit Cobbler
Here's a fruit cobbler just dripping with love, as you blend peaches, pears and berries in a sweet syrup—all baked under sugar-coated buttermilk biscuits.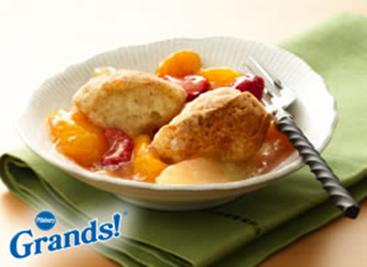 3 cups drained sliced peaches (from two 24.5-oz jars)
3 cups sliced peeled fresh pears (3 to 4 medium)
2 teaspoons lemon juice
1/2 cup sugar
1/3 cup water
1/4 cup cornstarch
1/2 teaspoon ground cinnamon
1 cup sliced fresh strawberries, or fresh or frozen blackberries
1/4 cup butter or margarine, melted
2/3 cup sugar
1 can (16.3 oz) Pillsbury® Grands!® Homestyle refrigerated buttermilk biscuits (8 biscuits)
1. Heat oven to 350°F. In medium bowl, toss peaches and pears with lemon juice.
2. In 4-quart nonstick saucepan, heat 1/2 cup sugar, the water, cornstarch and 1/4 teaspoon of the cinnamon to boiling over medium heat. Stir in peaches and pears. Cook until hot and bubbly, stirring frequently. Add strawberries; cook and stir 1 minute. Pour into ungreased 13x9-inch (3-quart) glass baking dish. Cover to keep hot.
3. In small bowl, place melted butter. In another small bowl, mix 2/3 cup sugar and remaining 1/4 teaspoon cinnamon.
4. Separate dough into 8 biscuits. Cut each biscuit into quarters. Lightly roll each biscuit piece in melted butter, then in sugar mixture to coat. Arrange biscuit pieces point sides down on hot fruit mixture.
5. Bake 35 to 45 minutes or until biscuit pieces are deep golden brown and bottoms are no longer doughy. Cool at least 20 minutes before serving.
High Altitude (3500-6500 ft): Heat oven to 375°F.
Nutrition Information:
1 Serving: Calories 320 (Calories from Fat 80); Total Fat 9g (Saturated Fat 4 1/2g, Trans Fat 2g); Cholesterol 10mg; Sodium 430mg; Total Carbohydrate 55g (Dietary Fiber 3g, Sugars 34g); Protein 3g Percent Daily Value*: Vitamin A 8%; Vitamin C 10%; Calcium 2%; Iron 8% Exchanges: 1 Starch; 1/2 Fruit; 2 Other Carbohydrate; 0 Vegetable; 2 Fat Carbohydrate Choices: 3 1/2
*Percent Daily Values are based on a 2,000 calorie diet.
Special Touch!
Add a drizzle of cream or a dollop of vanilla yogurt and you'll have a true crowd pleaser.

Download this recipe.
Watermelon Cups with Lime Sorbet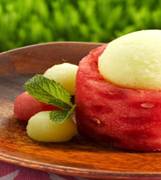 A delightfully refreshing, unique and easy dessert, that takes only 10 minutes to make with minimal cleanup required!
1 2-inch slice from a whole watermelon
2 Tablespoons fresh lime juice (about 1 lime)
1 pint lime sorbet
4 sprigs fresh mint or basil
Cut a 2-inch slice from a whole watermelon. Remove rind and seeds. Place the slice flat on a cutting board. Press a 3-inch-round cookie cutter into the watermelon, and cut out four pieces. You should now have four 2-inch-high rounds of watermelon.
Scoop out middle of each of the four rounds to make little bowls. Use a melon baller or regular spoon (you'll remove about 4 tablespoons).
Sprinkle lime juice over watermelon. Scoop 1/2 cup sorbet into the bowl of each watermelon, garnish with mint or basil; serve immediately. Looks pretty and tastes wonderful!
You can make the watermelon cups up to 8 hours in advance, wrap them in plastic wrap and refrigerate. Feel free to substitute your favorite sorbet flavor. Chocolate sorbet is also wonderful in this recipe.
Seedless watermelon is a good choice for these bowls (they'll have fewer gaps and will be less likely to leak). If you prefer to purchase a halved or quartered watermelon instead of a whole one, cut 2-inch slices from the half or quarter and then use the 3-inch round cookie cutter to cut four 2-inch-high rounds.

The watermelon balls or chunks you scooped out to create the bowls can be frozen and used in place of ice cubes to keep your drinks cold.

Download this recipe.
---
Contribute to the Cook'n Club!
DVO would love to publish your article, prose, photography and art as well as your cooking, kitchen and nutrition tips, tricks and secrets. Visit the Newsletter Submission / Win Win for All section in our Forum for more information and details.
---