While looking around for some simple desserts to make with grandchildren, we came upon these two that looked like fun! Let us know if you tried any of them and remember — half the fun is licking your fingers!
Easter Cupcake Tweeters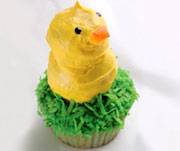 2 tablespoons of shredded coconut
Green food coloring
1 cupcake
Green frosting
2 plain doughnut holes
Toothpicks
Yellow frosting
1 orange gumdrop
Black decorators' gel

1. Place the coconut in a resealable plastic bag with a few drops of green food coloring. Shake the bag to color the coconut. Then transfer it to a bowl.
2. With a paring knife, remove a quarter-size portion of the center of the cupcake top. Frost the cupcake green, including the indentation. Dip the frosted cupcake into the coconut and add a dollop of yellow frosting to the indentation.
3. Trim a small slice off the doughnut holes so each has one flat surface.
4. Skewer a doughnut hole on a toothpick, frost it with yellow frosting, and place it in the cupcake indentation flat side up. Use the same technique to frost the second doughnut hole. Stack it on the first hole flat side down.
5. Cut a small beak from the gumdrop and push it onto the chick's head. Finally, add 2 black gel eyes and watch your guests chirp with pleasure!

Download this recipe.
Easter Bunny Cupcakes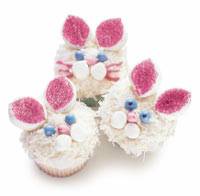 A cupcake (baked from your favorite recipe)
White icing
Shredded coconut
Pink decorators' sugar
Jelly bean nose
Chewable Sweet Tart eyes
Large marshmallow
Mini marshmallows
1. Frost a cupcake (baked from your favorite recipe) with white icing and sprinkle on shredded coconut fur.
2. Cut a large marshmallow in half widthwise. Squeeze each half slightly to give it an oval shape, then decorate the sticky side of each one with pink decorators' sugar and set them in place for ears.
3. Add a jelly bean nose and either jelly bean or snipped Sweet Tart eyes, and mini marshmallows for cheeks. For a finishing touch, draw on decorators' gel pupils or whiskers if you like.
---
Contribute to the Cook'n Club!
DVO would love to publish your article, prose, photography and art as well as your cooking, kitchen and nutrition tips, tricks and secrets. Visit the Newsletter Submission / Win Win for All section in our Forum for more information and details.
---
---