Given the conversations from most people we know, Easter has left most of us unprepared. We don't know who decided to calendar this season when the snow is still on the mountains (at least where we live). We've barely put away the shamrocks when the jelly beans appear.
If you are at a loss as to what to serve, may we suggest the recipes below. The ham glaze is a wonderful addition, whether you purchase your ham already cooked or not. Soup is always tasty, and the pears add a light touch to a filling meal. These recipes are quick and easy which will give you plenty of time to hide Easter eggs!
Cola Baked Ham With Cherry Orange Glaze
Emeril Lagasse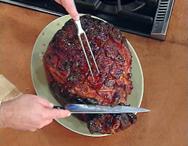 1 (12 to 15-pound) fully cooked bone-in ham
1 teaspoon ground allspice
1 (2-liter) bottle cola
3/4 cup cherry preserves or jelly
1/4 cup fresh orange juice
2 tablespoons orange flavored liqueur (recommended: Grand Marnier)
Biscuits or dinner rolls, accompaniment
Creole mustard, accompaniment
Preheat oven to 325 degrees F.
Trim rind and excess fat from the ham, leaving a 1/4-inch thick layer of fat. With a sharp knife, score the fat in a diamond pattern.
Place the ham in large roasting pan and sprinkle with the allspice. Pour the cola into the pan and bake uncovered 1 hour and 15 minutes, basting every 15 minutes with the pan juices.
Meanwhile, in a medium saucepan, combine the cherry preserves, orange juice, and liqueur over medium heat and cook, stirring, until melted, 1 to 2 minutes.
Remove the ham from the oven and brush the top and sides with the cherry glaze. Return the ham to the oven and bake, brushing with pan juices and glaze every 15 minutes and tenting the ham with foil if browning too quickly, until an instant-read thermometer inserted into the thickest part of ham without touching the bone registers 140 degrees F, about 15 to 30 minutes.
Remove the ham from oven and let rest for 30 minutes to 1 hour before slicing. Serve warm or at room temperature, thinly sliced, with biscuits or dinner rolls and mustard to make sandwiches.

Download this recipe.
Spring Pea Soup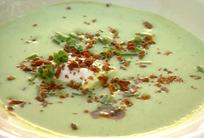 3 tablespoons extra-virgin olive oil
1 clove garlic, lightly crushed
1 1/2 cups sliced leek, white and pale green parts only
3/4 cup diced celery
2 1/4 cups chicken stock mixed with 2 1/4 cups water
1/2 cup heavy cream
4 1/2 cups shelled English peas (about 4 1/2 pounds unshelled)
3 tablespoons coarsely chopped fresh Italian flat-leaf parsley
1 teaspoon minced fresh thyme leaves
1/8 teaspoon powdered ascorbic acid (1 tablet vitamin C crushed)
Sea salt, preferably gray salt
Freshly ground black pepper
Creme fraiche, basil oil, finely sliced fresh chives, or prosciutto bits, optional
Heat the olive oil in a large saucepan over moderate heat. Add the garlic and let it sizzle for about 1 minute, then add the sliced white and pale green parts of the leek and celery. Stir often while cooking until the vegetables soften, about 8 minutes. Do not let them color. Then pour the diluted stock into the saucepan and bring to a simmer.
Add the cream to the vegetable mixture and bring to a simmer. Add the peas and return to a simmer. Adjust the heat to maintain a gentle simmer and cook until the peas are just tender, about 8 minutes. Add the parsley and thyme and simmer for 1 minute longer, then remove from the heat. Transfer in batches to a blender with the ascorbic acid and puree, adding more of the stock-water mixture as needed to thin the soup to a pleasing consistency. Pour soup into a bowl set in an ice bath and stir until cooled. (we want to cool it down as quickly as possible) Serve soup with optional garnishes.
Chef's Tip: Ascorbic acid helps keep the green color in pureed herbs and vegetables. If you have vitamin C tablets on hand, just crush one with a rolling pin and add it to the mixture in the blender. Note that you'll need a blender to puree the soup. A food processor doesn't make it smooth enough.

Download this recipe.
Honey-Marinated Pears
Recipe courtesy Anya von Bremzen
6 medium-sized firm Bartlett pears, peeled, cored and quartered
1/2 lemon, juiced
1 cup honey
2 1/4 cups water
3/4 cup cider vinegar
1 piece (i-inch) cinnamon stick
3 cloves
Place the pears in a large bowl, sprinkle them with the lemon juice and let stand for 5 minutes.
In a large nonreactive saucepan, combine the honey and water and bring to a boil over medium heat, stirring until the honey is completely dissolved, 5 minutes.
Add the pear quarters to the pan in 1 layer and cook at a medium boil until the pears are just tender, about 5 minutes. With a slotted spoon, transfer the pears to a bowl and reserve.
Add the vinegar and spices to the syrup and bring to a boil, stirring. Reduce the heat to low and simmer for about 5 minutes. Remove from the heat and allow the marinade to cool to room temperature, then strain it.
Pour the pears into a sterilized 1-quart jar and pour the marinade into the jar to submerge pears. Seal the jar and refrigerate for 3 to 4 days, by that time the pears should be ready to eat. The pears will keep for up to 3 weeks in the refrigerator.
---
Contribute to the Cook'n Club!
DVO would love to publish your article, prose, photography and art as well as your cooking, kitchen and nutrition tips, tricks and secrets. Visit the Newsletter Submission / Win Win for All section in our Forum for more information and details.
---
---