Invariably while Alice and I are working, one of us will turn to the other and ask, "What are you making for dinner?" After a long day, we want something nutritious, delicious, and EASY to fix. From what we have heard, many of you feel the same way. So, try these tasty soups along with a delicious variation of corn bread and relax. You've had a long day.
Tomato Soup
Recipe by Michael Chiarello
Servings: 6

1 (14-ounce) can chopped tomatoes
3/4 cup extra virgin olive oil
Salt and freshly ground black pepper
1 stalk celery, diced
1 small carrot, diced
1 yellow onion, diced
2 cloves garlic, minced
1 cup chicken broth
1 bay leaf
2 tablespoons butter
1/4 cup chopped fresh basil leaves
1/2 cup heavy cream, optional
Preheat oven to 450 degrees F.
Strain the chopped canned tomatoes, reserving the juices, and spread onto a baking sheet, season with salt and pepper, to taste, drizzle with 1/4 cup of the olive oil and roast until caramelized, about 15 minutes.
Meanwhile, in a saucepan, heat remaining olive oil over medium-low heat. Add the celery, carrot, onion and garlic, cook until softened, about 10 minutes. Add the roasted chopped canned tomatoes, reserved tomato juices, chicken broth, bay leaf and butter. Simmer until vegetables are very tender, about 15 to 20 minutes. Add basil and cream, if using. Puree with a hand held immersion blender until smooth.

Download this recipe.
Carrot Soup
From Food Network Kitchens

3 tablespoons unsalted butter
1 medium Spanish onion, finely chopped
3 cloves garlic, finely chopped
10 medium carrots (about 1 3/4 pounds), peeled and cut into 1-inch slices (see note)
8 cups chicken broth, homemade or low-sodium canned
2 tablespoons sugar
1 teaspoon kosher salt
1 teaspoon freshly squeezed lemon juice
Freshly ground black pepper to taste
Heat the butter in a large soup pot over medium heat. Add the onion and garlic and cook, covered, stirring occasionally, until soft, about 7 minutes. Add the carrots and cook, covered, stirring occasionally, until somewhat tender, about 3 minutes more.
Pour in the broth and the sugar. Season the soup with the salt. Bring to a boil, lower the heat, and simmer, covered, until the carrots are very soft, about 30 minutes. Remove from the heat and allow to cool.
Working in batches, transfer the carrot mixture to a blender and puree until smooth.
Return the carrot puree to the pot and reheat over medium heat. Stir in the lemon juice and season with pepper. Divide among warm soup bowls and serve immediately.
Cook's Note:
Choose carrots with perky green tops for optimum flavor.

Download this recipe.
Vidalia Onion Cornbread
Recipe by Paula Deen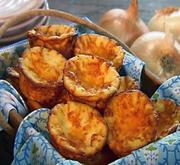 1/4 cup (1/2 stick) butter
1 large Vidalia or other sweet onion, chopped
1 (8-ounce) package cornbread/muffin mix
1 egg, beaten
1/3 cup whole milk
1 cup sour cream
1 cup grated sharp Cheddar, divided
1/4 teaspoon salt
1/4 teaspoon dried dill weed
Preheat the oven to 450 degrees F. Spray an 8-inch square baking pan with vegetable oil cooking spray.
In a medium saucepan, melt the butter and saute the onion until tender, but not browned, for about 3 minutes. Remove the pan from the heat and add the muffin mix, egg, milk, sour cream, 1/2 cup of the cheese, the salt, and dill weed. Stir to combine. Pour into the prepared pan and top with the remaining 1/2 cup cheese. Bake for 30 minutes, until set and a toothpick inserted into the center of the cornbread comes out clean. Allow to cool slightly before cutting into squares.

Download this recipe.