We are always looking around for ways to incorporate grains, vegetables and fruits into our diets. Below are three recipes that do just that! If you have any favorites that you would like to share, just let us know and we'll make sure they are included.
Melt the butter in a medium saucepan over medium heat, and the apple and cook until lightly brown and soft, 2 minutes. Add cinnamon and sugar and cook until dissolved. Add the water and bring to a boil. Add the oats, wheat germ, flax, dried apples and raisins. Stir constantly for 2 minutes until oats are cooked and dried fruit is slightly plumped. Divide into 4 bowls, sprinkle each bowl with more brown sugar, a drizzle of milk and a dried apple ring.

Download this recipe.
Sliced Orange Salad with Sauteed Olives and Ricotta Salata
Recipe courtesy Michael Chiarello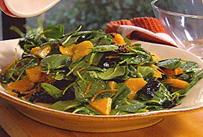 6 medium navel oranges
4 tablespoons extra-virgin olive oil
2 tablespoon finely chopped fresh rosemary leaves
1 cup oil-cured black olives, pitted and halved
12 cups lightly packed baby spinach or arugula leaves
Finely ground sea salt, preferably gray salt
Freshly ground black pepper
4 ounces ricotta salata
For the vinaigrette:
2 medium navel oranges, juiced
Twice the amount of olive oil as orange juice
Finely ground sea salt, preferably gray salt
Freshly ground black pepper
Using a vegetable peeler, remove the zest from 2 oranges in strips. Cut the strips lengthwise as thinly as possible until you have 2 tablespoons of thin slices. Reserve the thin slices and discard the remaining zest. Using a sharp knife, remove the entire rind from the 6 oranges and cut them lengthwise in half. Cut each half crosswise into 1/4-inch slices to form half-moons. Remove the seeds.
Heat the oil in a 10-inch skillet over high heat. Add the rosemary to the skillet, cook for a few seconds, and then add the olives. Cook for 10 seconds or until the olives begin to absorb the rosemary-infused oil. Stir in the reserved 2 tablespoons of thinly sliced orange zest. Cook for a few seconds, then remove the skillet from the heat and allow the mixture to cool in the skillet.
Add the orange juice to a medium-sized bowl and pour in twice the amount of olive oil as there is juice. Whisk lightly until combined. Season, to taste, with salt and pepper.
Put the spinach in a large bowl. Add the reserved orange slices and pour in the olive-orange mixture from the skillet. Add the vinaigrette and toss gently to evenly coat the spinach. Season with salt and pepper. Transfer the salad to a serving platter or individual bowls. Grate some ricotta salata over the top, and serve immediately.

Download this recipe.
Cucumber Salad

3 large cucumbers, thinly sliced
2 teaspoons salt
3 tablespoons fresh lemon juice
1 tablespoon vegetable oil (kosher for Passover)
1 tablespoon sugar
2 tablespoons chopped fresh dill
1/2 cup thinly sliced red onion
Toss cucumber with salt in large bowl. Cover with plate that rests directly on cucumbers; weight down with 1-pound can. Let stand 1 to 2 hours. Drain in colander; rinse well.
Combine lemon juice, oil, sugar, and dill in serving bowl. Mix in onion and cucumber. Refrigerate overnight. Serve cold or at room temperature.
---
Contribute to the Cook'n Club!
DVO would love to publish your article, prose, photography and art as well as your cooking, kitchen and nutrition tips, tricks and secrets. Visit the Newsletter Submission / Win Win for All section in our Forum for more information and details.
---
---