As Old Man Winter was shaking the snow out of his skirts and blanketing our home town in white, my son, who lives in Palm Springs, had his own idea of "cold" weather; the temperature he stated matter-of-factly, had dropped to 70. Yep, definitely time for soup.
Here are two recipes that anyone can make. Quick, easy, and warm, these soups are a perfect meal whether you've just shoveled snow, or spent a lazy afternoon lounging by the pool.
Loaded 'Baked Potato' Soup
Prep time: 5 minutes
Cook time: 15 minutes
Yield: 4 servings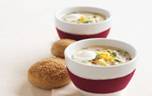 1 pound baking potatoes, cut into cubes
1 (14.25 ounce) can fat-free, reduced-sodium chicken broth
1 cup milk
3 slices OSCAR MAYER Bacon, cooked, crumbled and divided
3/4 cup KRAFT Shredded Cheddar Cheese, divided
2 tablespoons sliced green onions, divided
1/4 cup BREAKSTONE'S or KNUDSEN Sour Cream
1. Place cubed potatoes in large microwaveable bowl; microwave on HIGH 5 min., stirring after 2-1/2 min. Add broth and milk to bowl; stir. Microwave on HIGH 10 min., stirring after 5 min. Crush potatoes with a potato masher.
2. Reserve 2 Tbsp. each of the bacon and cheese and 1 Tbsp. of the onions for topping; set aside. Add remaining bacon, cheese and onions to soup.
3. Serve topped with reserved bacon, cheese, onions and sour cream.

Download this recipe.
Chicken and White Bean Soup
Prep time: 10 minutes
Cook time: 25 minutes
Yield: 4 servings

4 slices bacon, finely chopped
1 onion, finely chopped
2 cloves garlic, finely chopped
1 pound red potatoes, cut into cubes
4 cups chicken broth
1 whole rotisserie chicken
2 (15.5 ounce) cans small white beans, rinsed
5 ounces arugula
Salt and pepper
In a large soup pot or Dutch oven, cook the bacon over medium heat until cooked but not crisp, about 5 minutes. Add the onion and garlic and cook, stirring, until softened, about 5 minutes. Add the potatoes and chicken broth and simmer until the potatoes are tender, about 15 minutes.
Meanwhile, pull the meat off the rotisserie chicken; discard the skin and bones. Add the chicken and white beans to the stew and cook until heated through. Just before serving, stir in the arugula and season to taste with salt and pepper.

Download this recipe.