We're strolling through Costco, just in time for "lunch" (aka free samples), when we stumbled on the Edamame demonstration. Holy cow were they delicious! We managed to listen to the demonstrator's schpiel as we were scarffing them down.
Here's what we learned: Edamame are a variation on the same yellow and black field soybeans that are transformed into many popular soy products such as tofu, miso, and soymilk. Edamame were developed especially for eating out of the pod, so they make a great snack food.
Why they're good for you:
Edamame is something of a wonder vegetable because it is the only vegetable that contains all nine essential amino acids. This makes Edamame a complete protein source, similar to meat or eggs. Edamame also contain isoflavones which are currently being studied for their potential to help stave off breast cancer, as well as their positive effect on bone health.
How to eat:
To eat beans right out of the shell, boil them until they are al dente (still slightly firm). Rinse to cool slightly, and season as desired. You can easily suck the al dente beans out of the shell. Beans may also be shelled and added to other dishes, such as salads. Beans are easy to shell after they are boiled briefly.
You can add the beans to soups and stews, or toss into a salad.
You can now often find already shelled, fresh beans in supermarkets. Warm slightly in the microwave, add a little salt to season, and enjoy!
Edamame with Kosher Salt
Yield: 4 servings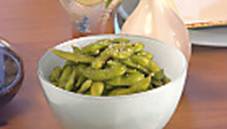 10 oz. bag frozen in the pod Edamame
Kosher salt to taste
1. Place Edamame in a microwaveable bowl and add 1 tablespoon water.
2. Loosely cover the bowl and microwave two-three minutes, stirring once midway through cooking, until the Edamame are thawed and tender.
3. Drain, place on small appetizer plates and sprinkle with kosher salt.

Download this recipe.
---
Contribute to the Cook'n Club!
DVO would love to publish your article, prose, photography and art as well as your cooking, kitchen and nutrition tips, tricks and secrets. Visit the Newsletter Submission / Win Win for All section in our Forum for more information and details.
---
---