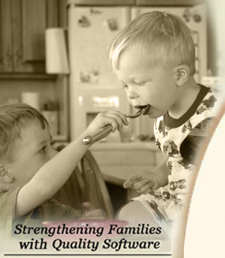 Volume I - November 16, 2007
Cake Mix Bars
Notes from Folks...

Hello Dan and Kathy,

I was wondering if you have a recipe for cake mix bars that is made with a cake mix, and turned in to bars. Where I work, I need to have bars every day, but I need the recipe for a 5-pound box of a cake mix. Can you help me out? Or do you have a cake mix cookbook just with cake mix and bars? I love this website and DVO. Your Turtle Cake is awesome!

Judy Hurst



---

Hi Judy,

Here are some recipes for Cake mix bars. You can use your cook'n software to increase the amount by 5.

Happy Cook'n,

Desi @ DVO

Cake Mix Candy Bars

1/2 cup butter, melted
1 pkg. two layer chocolate cake mix
1 cup semisweet chocolate chips
1 cup white chocolate chips
2 cups chopped pecans OR coconut
1/2 cup milk chocolate chips
14 oz. can sweetened condensed milk


Heat oven to 350 degrees. Place butter and cake mix in large bowl. Mix with fork until crumbly. Sprinkle evenly over bottom of 15x10" jelly roll pan and press to form crust. Sprinkle with semisweet chocolate chips and white chocolate chips and pecans or coconut.

In microwave on medium power, melt milk chocolate chips for 1-2 minutes or until melted. Stir sweetened condensed milk into the melted chips. Spread milk mixture evenly over nuts in jelly roll pan. Bake at 350 degrees for 18-25 minutes or until light golden brown. Cool completely and cut into bars. 48 bars

Buckeye Bars
Tasty bars are made with a chocolate cake mix and peanut butter and other ingredients.

1 chocolate cake mix or devil's food, 2-layer size (about 18 1/2 ounces)
1/4 cup melted butter
1 egg, lightly beaten
1 cup chopped peanuts
1 can (14 ounces) sweetened condensed milk, Eagle Brand
1/2 cup creamy peanut butter

In a large mixing bowl, combine the cake mix, melted butter, and egg; beat with an electric hand-held mixer on medium speed until crumbly (or cut in with a pastry blender until evenly mixed and crumbly). Stir in chopped peanuts.

Butter a 13x9x2-inch baking pan. Reserve 1 1/2 cups of the crumbs and press remaining crumbs over the bottom of the prepared baking pan.

In another bowl, combine sweetened condensed milk with the peanut butter until well blended. Spread peanut butter mixture over the crust layer. Sprinkle with the remaining reserved crumbs. Bake at 350° for 25 to 30 minutes, or until set. Cool before serving. Store loosely covered at room temperature.

Cake Mix Bars

1 cake mix
1 egg
1/2 cup oil
1/4 cup water
6 ounces chocolate chips

Mix first 4 ingredients in a bowl until almost all the lumps are gone.

Add the chocolate chips.

Bake in a greased 9 X 13 pan at 350 degrees F for 25 minutes.

Cool and cut into squares.

Also may want to try butterscotch chips, or nuts for variety.



---
Contribute to the Cook'n Club!
DVO would love to publish your article, prose, photography and art as well as your cooking, kitchen and nutrition tips, tricks and secrets. Visit the Newsletter Submission / Win Win for All section in our Forum for more information and details.
---
---