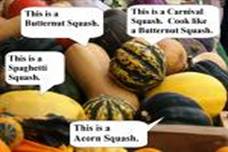 Like most of you, we have used colorful squash to decorate our
holiday tables
, grace our porches, and try out our Jack-o-Lantern carving skills. Few of us, however, have good recipes for their use—other than our favorite pumpkin pie.
Healthy and nutritious, squash comes in all shapes, sizes and a variety of colors. Dark green and sweet acorn and banana squash, beige butternut squash with its sweet and nutty flavor, and yellow spaghetti squash, so called because when cooked and "raked" the strands resemble spaghetti pasta, are just a few varieties that can be found in your local market.
Below are two recipes for you to try—one using acorn squash, and the other a squash of your choosing. Let us know what you think!
Orange-Glazed Grilled Acorn Squash
4 acorn squash, halved lengthwise, seeds and membranes removed
1/4 cup melted butter
Salt and freshly ground pepper
4 cups fresh orange juice
1/2 cup light brown sugar
4 whole allspice berries
1 stick cinnamon
Preheat the oven to 350 degrees F.
Brush the cut side of each acorn squash with the butter and sprinkle with salt and pepper. Place squash, cut-side down, on a baking sheet and bake until almost tender, about 30 minutes.
While the squash is baking, combine the orange juice, brown sugar, allspice, and cinnamon in a medium saucepan. Cook over high heat until reduced to 1 cup, stirring often.
Preheat the grill to medium-high. Place the squash, cut side up, on the grill, and brush with the orange glaze. Cook for 5 minutes, turn over with tongs, and grill for 5 more minutes, or until tender and glaze is caramelized. Remove from the grill and brush with more of the glaze. Serve warm.

Download this recipe.
Creamy Winter Squash Soup
2 tablespoons unsalted butter, plus 2 tablespoons
4 slices bread, preferably pane di casa
2 cloves garlic, halved lengthwise
2 pounds squash (hubbard, butternut, or pumpkin), peeled and cut into 1/2-inch cubes
Salt and pepper
Pinch cinnamon
1 lemon, juiced
1 cup fresh bread crumbs
3 cups milk
In a large
skillet
, heat 2 tablespoons butter over high heat until the butter foams and subsides.
Add the bread, working in batches if necessary, and fry over high heat until golden and crispy.
Rub each bread slice with the cut side of 1/2 a garlic clove, cut into very small pieces, and set aside.
In a medium stockpot, heat the remaining butter over medium-high heat.
Add the squash, salt and pepper, to taste, cinnamon and lemon juice and cook over medium-high heat for 20 to 25 minutes, until the squash is very soft and broken down.
Add the bread crumbs and milk and bring to a boil. Lower heat and cook over medium-low for 15 minutes, adjust the seasoning and serve immediately over bread pieces.

Download this recipe.