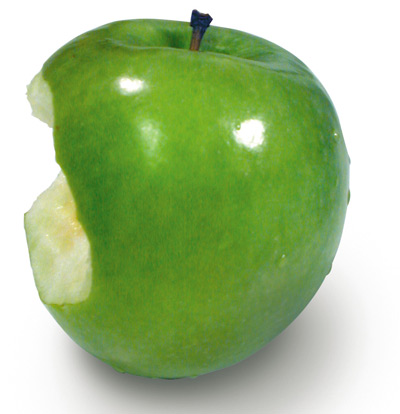 Biting into a crisp red or green apple, and savoring the juice from every bite, is part of our fall experience. Where we live, apple stands are laden with every color and variety of this delicious fruit, just waiting to be made into a favorite
apple recipe
like strudel, pie, applesauce, or simply to be cut into wedges for a child's lunch.
As with any fruit, apples should be eaten about 30 minutes before eating other foods. Fruit digests quickly on an empty stomach but ferments in the body if eaten directly following other foods. This fermentation can cause Candida—an outgrowth of yeast.
Some other facts about fruits:
Apples:
controls weight gain and can lower the risk of heart disease
Lemons:
stimulates the liver, dissolves uric acid and other poisons, and is great for symptoms of indigestion. They also help with colds and coughs. Just put some hot water in a mug, squeeze in half a lemon and add a little raw honey to sweeten. Drink it down.
Bananas:
helps with depression, PMS, anemia, adds to brain power, quells heartburn and morning sickness, and more.
Grapes:
helps with kidney, liver and lung disorders, nervous exhaustion, insomnia, the list goes on.
Berries:
protects against urinary tract infections, high in antioxidants and fiber.
Try this delicious recipe for a wonderful pick-me-up...
Healthy Fruit Dip
1 cup raw cashews, soaked for 4 hours
˝ tsp. vanilla
Maple syrup, to taste
Purified water, enough to make a creamy texture
˝ fresh lemon, juiced
Sea salt to taste
Put cashews and water into a food processor or blender. Process until creamy. Add all of the other ingredients and blend.
Dip in apple wedges, bananas, pears or any other fruit or vegetable you desire.
---
Contribute to the Cook'n Club!
DVO would love to publish your article, prose, photography and art as well as your cooking, kitchen and nutrition tips, tricks and secrets. Visit the Newsletter Submission / Win Win for All section in our Forum for more information and details.
---
---