According to health experts, the children of this generation are tipping the scales and raising the rate of obesity as we have never seen before.
It doesn't take a brain-surgeon to know that much of the problem stems from lack of exercise, and high-fat food intake. Starting today, and throughout the month of September, we will have ideas for healthy and fun recipes for school lunches, and after-school snacks.
To ensure "buy in" from your children, remember to never use the word "healthy". This always conjures up in the minds of our children the taste of card-board, and social embarrassment. Let's face it; many adults have the same challenge.
Here are some simple ideas and substitutes that your children may not even recognize:
1.
The
Smoothie recipe
listed in the Breakfast article
2.
Switch to whole grain bread
3.
To make fruit more exciting in the lunch-box, add some
yogurt
for dipping the fruit into.
4.
Switch to 1% or fat-free milk.
5.
Instead of fat-filled chips, try using baked chips, pretzels, or bread sticks with a little cup of almond peanut butter for dipping.
6.
Use 100% juice boxes instead of the others
7.
Instead of bologna, switch to chicken, turkey, low-fat ham or roast-beef for sandwiches.
8.
Add sliced green and/or red peppers, broccoli, or cherry-tomatoes to the child's lunch. Again, include a dipping sauce such as low-fat ranch dressing, or home-made vinaigrette.
LUNCH-BOX IDEAS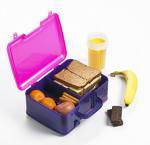 1.
Almost flatten a piece of whole grain bread with a rolling pin.
Spread almond peanut butter, nuts, and low-sugar jelly over bread.
Roll the bread from one end. Voila! Spiral you have a spiral sandwich!
You can also use low-fat meats, lettuce, and pickles. Same method, different ingredients.
2.
Sandwich on a stick:
Cherry Tomatoes
Pickles
Low-Fat Meat
Lettuce
Grapes
Cubed Bread

Just skewer like a kabob. Great way to include fruits and veggies to a child's lunch.

3. I know, I know. As if you have time for this — but kids love it! Use cookie cutters to make different sandwich shapes. Somehow, whatever is in the sandwich doesn't matter when it is shaped like a flower, pumpkin, or Bat-Man.

4. For variety, make a sandwich in pita bread

5. Don't forget to occasionally add a note to let your child know you love them, or write down a dumb knock-knock joke. They may think it is goofy, but all of these years later, our children still remember the underlying message — that they were loved and thought of.