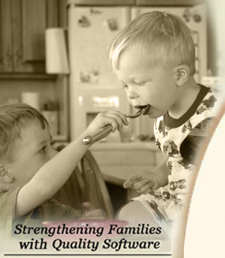 Cook'n Club Home
Subscribe Now!

Cook'n Forum
HomeCook'n Archive
Give-Aways

I have spent the last 2 hours reading your newsletter and wonderful recipes. I have already printed a whole bunch I want to try. I love them because they are using ingredients one has on hand. I love that and just wanted you to know how much we appreciate all your hard work in putting together this newsletter. Thank you very much.

Anna

Volume I - February 16, 2007
Once You Go Mac There's No Turning Back
Notes from Folks...



Hello Dan,

How are you? My family and I are doing good. But we are really excited and looking forward to the Mac version.

I wrote to you a while back about this and soon after I saw your webpage on the Mac version and am very excited. Is there any way that you can get it out to the stores (CompUSA, BestBuy...) and online sooner? I know that you are afraid to lose money, but Macs have gone mainstream and you won't regret your decision.

Cooks are creative individuals. Do you realize that most people in the computer creative world, like designers, own a Mac and don't really care for PCs. Yes, I know that not everyone that cooks creatively is a designer but there are a lot of designers and others in similar fields out there that do love to cook because it is such a creative art and most if not all use Macs.

Please consider coming out with the program sooner. We really need it and want it. And besides, it would be great for you and your company to be the first to go mainstream with this type of program for the Mac; then everyone would know who Cook'n is.

Loving your creativeness and Cook'n,

Honey
: )

P.S.
I will be dreaming of Cook'n until it finally comes out. Hopefully sooner than later. But I will not use a PC over a Mac ever. Once you go Mac there's no turning back.




---
Contribute to the Cook'n Club!
DVO would love to publish your article, prose, photography and art as well as your cooking, kitchen and nutrition tips, tricks and secrets. Visit the Newsletter Submission / Win Win for All section in our Forum for more information and details.
---
---