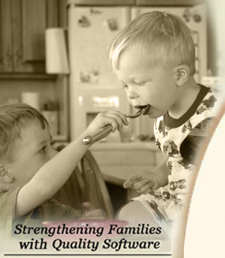 Cook'n Club Home
Subscribe Now!

Cook'n Forum
HomeCook'n Archive
Give-Aways

I have spent the last 2 hours reading your newsletter and wonderful recipes. I have already printed a whole bunch I want to try. I love them because they are using ingredients one has on hand. I love that and just wanted you to know how much we appreciate all your hard work in putting together this newsletter. Thank you very much.

Anna

Volume I - November 10, 2006

What Is The Right Way To Cook Pasta?

Kathy was sick with the flu last week and the kids were starting to complain that their tummies weren't feeling well. So, naturally, I did what my mom and my grandma always did for me when I was a sick kid...I made chicken soup.

My grandma called it Polish Penicillin...which is a very fitting name considering her Polish heritage and the healing powers of the soup. The soup did wonders for us! I added some fresh corn that we cut off the cob and froze back in August. It was a very nice addition and tasted GREAT!

However, as I made it, I wondered about the macaroni noodles. Grandma always cooked the noodles separately. She drained them, added them to our bowl, and then poured the soup over the top.

I typically add the macaroni noodles right into the soup but I feel guilty doing so. So, the please cast your vote and let your voice be heard!

I look forward to your insight and hope that it will ease my conscience! :)

Dan

P.S. I remembered to add the "Submit Vote" button to the poll question this time...isn't that so very smart of me?!!! (sorry about last time!!)
---
Contribute to the Cook'n Club!
DVO would love to publish your article, prose, photography and art as well as your cooking, kitchen and nutrition tips, tricks and secrets. Visit the Newsletter Submission / Win Win for All section in our Forum for more information and details.
---
---