"I've been looking for grown-up Halloween recipes, not that we are party people, but I suddenly find myself with lots of time on my hands, and my husband and I (and our 17 & 19 year old boys) really enjoy the fun spirit (no pun) of Halloween.
The problem is that all the special recipes I found on the Web are for small children. (If you want any of those, post here or send me a PM)---(Small note, the recipes are geared toward the small childrens' enjoyment, not recipes for small children! Thought this important in light of the *joke* post in the other topic about getting large children into the oven)
I would like something that's not too hard to make, and the biggest limitation I have is that I live in Podunk. We have 3 grocery stores in our very small town, but if it's more exotic than a Golden Delicious apple, we are out of luck! I'm looking forward to getting some good ideas from this forum, and thanks in advance!"

- Kitty


---
This sounds like an emergency! So here's a post from our editor: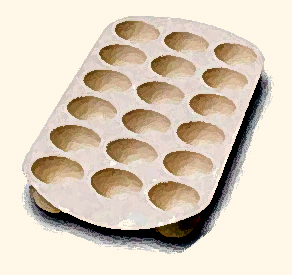 Eerie Eyeballs
Yields approximately 9 dozen bite-sized eyeballs
3 oz lemon gelatin (can be sugar-free)
1 cup hot water
1/2 cup miniature marshmallows
1 cup pineapple juice
8 oz cream cheese (can be lowfat/Neufchatel)
1 cup mayonnaise (can be fat-free)
Dissolve lemon gelatin in 1 cup water in double boiler, add marshmallows and stir to melt.

Remove from heat. Add pineapple juice and cream cheese. Beat until well blended. Cool slightly. Fold in mayo. If you have a truffle candy mold or round ice cube trays, pour the mixture in the molds and leave to set in the fridge. Otherwise pour into a deep ceramic dish and chill until thickened or firm enough for scooping into eyeballs.

Using a melonballer, scoop full balls of the mixture and set aside for decoration.

To decorate, use liquid food coloring and an old detail paintbrush and get creative. You will need black food coloring for the pupils. Also, if you are in a hurry, instead of painting the colored irises, you can carefully dip the ball in a small pool of food coloring to approximate the iris, but still paint on the pupils.

I found rubber ice cube trays that worked beautifully with much less waste than the melonballer technique. I sprayed the rubber trays with non-stick cooking spray beforehand like you would any gelatin mold, let the gelatin mixture sit in the refrigerator to set, then I was able to carefully pop the eyeballs out to paint them. Some of the eyeballs did break, and they do have one flat side, but that actually works, since then they don't roll around while you are trying to paint them.

I have found that Wilton truffle candy molds are even better, since the swirl design on the top is the right size for the cornea shape on the eyeball. When using the truffle molds, one recipe makes about 9 dozen eyeballs - plenty for a party crowd!

Well now...that all sounds pretty complicated and like a lot of work but you did ask for something for "grown-ups."

If you need something less complicated visit this site:


www.britta.com/HW/HWr.html

You're sure to find something that will fit your sick, twisted tastes!