Chili is one of those foods that actually taste better the next day. If you make chili and discover you have leftovers, plan a Navajo taco night. Add some green salad fixin's and fry bread to the equation and you are ready for a favorite of mine.
Navajo Fry Bread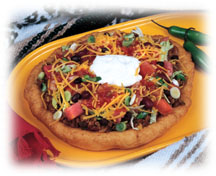 2 cups of flour
2 Tablespoons oil
½ teaspoon baking powder
¾ to 1 cup warm water
1 teaspoon salt
The dough should not be sticky
Combine all ingredients together with mixer. Roll flat and fry in canola oil over medium high heat. Drain on paper towels and they are ready to serve.
Fry bread is easy to make. You can use any bread recipe and fry a thin slice in oil just like you do American scones.
Scoop up a nice big spoon full of hot chili and spread it on the fry bread. Then layer on some of those salad fixin's you have left from last night such as shredded cheese, lettuce, tomato, olives, etc… Serve with salsa and sour cream.
This is so tasty. The only trouble is that you maybe be hungry again in a couple of days.
Cottage Pie
Is there such a thing as leftover mashed potatoes? Only, if you're lucky! Leftover mashed potatoes are heaven sent when you need help with a meal.
We use the old stand by Cottage Pie and we never tire of it. Well, that's not completely true. While my husband was in college, I made it so often, trying to stretch the dollar, that it became an over kill. After a few years of leaving it alone, we've decided it's yummy, quick and easy.
1 pound ground beef
Salt & pepper to taste
Onion salt to taste
1 can green beans, drained
1 can tomato soup, undiluted
1 cup cheese
Start with 1 pound of ground beef in a skillet; season with salt, pepper and onion salt. Add a can of drained green beans and a can of tomato soup (undiluted). Give this a quick stir then add salt, pepper and onion salt to taste. Pour in a deep dish pie plate and spoon leftover mashed potatoes over the top and sprinkle liberally with cheese.
Bake for 375 degrees for 30-35 minutes until bubbly.
You could use other leftover vegetables or instead of hamburger, use roast beef.
Tomorrow you'll be wishing you had some leftover leftovers.
Hawaiian Haystacks
Rice is nice and haystacks rule! For those of you who have never had Hawaiian Haystacks don't turn your nose up yet. When you hear tell what people put on their rice you may think "not a chance!" But, you will be so pleasantly surprised. Besides, I have never seen a kid not thoroughly enjoy this recipe.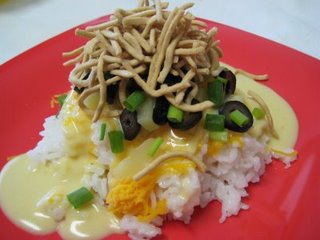 1 package chicken or turkey gravy mix 1 can cream of mushroom soup 1 cup milk 1 cup water Leftover chicken or can of chunk chicken breast meat 1 pot freshly made or leftover rice. 1 package of Chow Mein Chinese Noodles.
In a sauce pan over medium heat add a package of chicken or turkey gravy mix and one can of cream of mushroom soup, a cup of milk and 1 cup water. Then add leftover Chicken or a can of chunk chicken breast meat and heat thoroughly.
The premise of this dish is to create your own plate with some or all of the options listed below. Everyone's plate will look different.
Plate up a pile of warm rice. Scoop up some chicken gravy and throw on some Chinese Noodles (they are hard and crunchy).
At this point, add whatever and as much as you like of the following:
Green onions
Bamboo shoots
Grated cheese
Chopped green peppers
Pineapple
Toasted almonds
Diced fresh tomatoes
Black olives
Celery
Mushrooms
This is a tasty way to use up leftovers and everyone is happy because they create their own dinner with only the ingredients they enjoy.
Left over night might be an easier sell if you called it "recycle night".
---
If you have any additional tips that you'd like to add, please post them on the
Cook'n Club Forum
(if you're a
Cook'n Club Member
)...or e-mail them to
Dan@dvo.com
.
---
Join the Cook'n Club!An unbeatable value with exclusive benefits for members only.
Enjoy articles like this and many other benefits when you join the Cook'n Club.