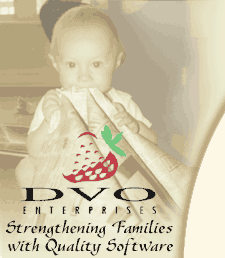 | | |
| --- | --- |
| Volume II | October 12, 2007 |
---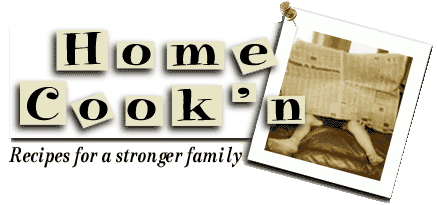 Trick or Treat?

By Bethany Booth

Trick or Treat? Here are a few Halloween snacks that are a little of both, and fun for the whole family.

Spider Bite Bagels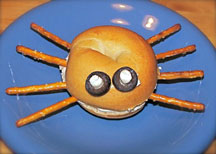 These tasty little spiders are perfect snacks for your Halloween Party or fun packed in a lunch box.

Ingredients:
mini honey whole wheat bagels
cream cheese (any flavor)
pretzel sticks
sliced olives or raisins (for eyes)

Directions: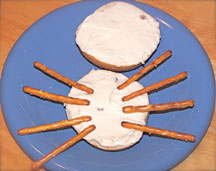 Slice bagels in half.
Spread a layer of cream cheese on each bagel half.
Place 8 pretzels (legs) so that there are 4 on each side sticking half-way out of the cream cheese
Put the other half of the bagel on top
Dab two raisins or olive slices with cream cheese and stick them on top of the bagel for eyes

Green Sour Slime Drink
This drink looks like rolling, oozing sour slime and will add the just right touch to your Halloween party.

Ingredients:
1 can frozen limeade concentrate (12 oz.)
1 can frozen lemonade concentrate (12 oz.)
1 2 liter bottle of lemon-lime soda
1 quart of lime sherbet, scooped

Directions:
Mix limeade concentrate, lemonade concentrate and soda
Add scoops of lime sherbet until it is the color and consistency of slime


To add a little TRICK to this TREAT, try adding Ice cube EYEBALLS or a FROZEN HAND!

Ice Cube Eyeballs

Ingredients:
Ice cube tray
purple grapes
cranberry juice or just red food coloring
water

Directions:
Fill ice tray half way with water
Set in freezer until partially frozen
Place a purple grape in the center of each ice cube
add a few drops of cranberry juice/red food coloring (you want streaks of red to make a bloodshot eyeball so do not stir the red in)
Freeze until solid
Add to Green Sour Slime or your favorite witch's brew

Frozen Hand

Ingredients:
one latex glove, clean and washed
water and food coloring or juice (depending on the color and flavor you want)

Directions:
Fill glove with colored water or juice (you can also stir in raspberries for a "bloody" frozen hand)
Freeze until solid (usually needs to freeze overnight to be solid)
Place hand upright coming out of your Halloween punch or Green Sour Slime.
Note: Be sure that your guests are not allergic to latex before you serve them punch.

Happy Halloween!




---
Join the Cook'n Club!An unbeatable value with exclusive benefits for members only.
Enjoy articles like this and many other benefits when you join the Cook'n Club.
---